Sudanese escaping Darfur violence continue to face assaults on road to Chad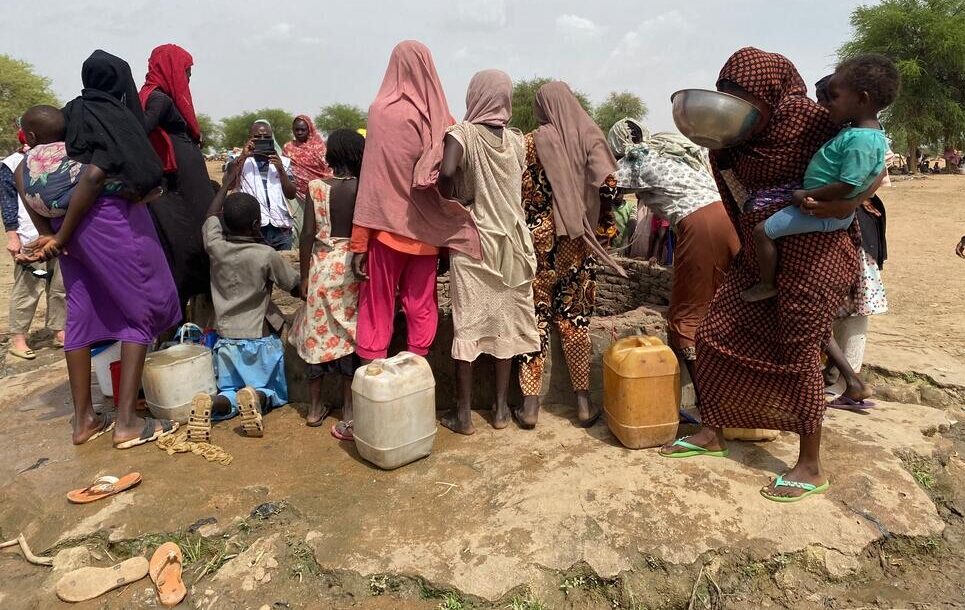 EL GENEINA / ADRÉ, CHAD –
---
At least 350 corpses line the road between El Geneina, capital of West Darfur, and Adré in eastern Chad, as reported by people who sought refuge across the border. "They are victims of brutal attacks carried out by the Rapid Support Forces (RSF) and affiliated armed groups."
Activist Ibrahim Shamou, who arrived in the Chadian town of Adré from El Geneina on June 18, told Radio Dabanga that thousands of people embarked on the journey towards Adré "but many have yet to arrive and others went missing".
He said that at least 350 bodies are scattered on the road to Adré. "They are victims of brutal attacks carried out by the Rapid Support Forces (RSF) and affiliated armed groups."
Mojeebelrahman Yagoub, Assistant Commissioner for Refugees in West Darfur, described in a live broadcast on his Facebook page how hundreds of women and children were killed and subjected to humiliating beatings while fleeing to Chad and how "some children were lost during their escape from the violence".
'some children were lost during their escape from the violence'
'Ethnically motivated'
A survivor of the El Geneina violence told Radio Dabanga earlier this week that escaping on foot is not safe and any escape by car is also unsafe and very expensive.
"The militiamen ask those fleeing about their tribal background. Masalit are not allowed to cross the border to Chad," she said. "Members of other tribes are allowed to cross the border but are subject to inspection. There are more than ten militia checkpoints within 30 kilometres on the way to the Chadian border, where the people's mobile phones and money in their possession are taken from them."
'The militiamen ask those fleeing about their tribal background'
The latest OCHA Sudan Humanitarian Update reported that the conflict has prompted thousands of civilians to flee and that there are reports saying that Arab communities have occupied homes in El Geneina abandoned by fleeing Masalit.
In a report on Monday, Amnesty International as well reported ethnically motivated attacks. The human rights organisation documented killings, sexual violence, the burning of homes, and mass displacement of non-Arab residents, particularly in and around El Geneina, perpetrated by the RSF and allied Arab gunmen.
Humanitarian situation
Following the assassination of West Darfur Governor Khamees Abakar on June 14, at least 15,000 people, including Darfuri refugees and 3,000 Chadian returnees, have crossed into Chad.
Ibrahim Shamou said that most of the new refugees in eastern Chad are from El Geneina and Foro Baranga.
Around 400,000 West Darfuri who fled their homes are living in tragic humanitarian conditions near Adré.
Despite assistance provided by the Chadian government and relief organisations, the humanitarian situation still requires further support, particularly in terms of shelter, Shamou said.
He added that "while the Chadian people have hosted numerous families, they have been unable to meet the needs of the fleeing people due to their overwhelming numbers". Many of the people fleeing are "forced to stay on the roads and seek refuge under trees". Shamou anticipated that the increasing rainfall will further exacerbate the humanitarian crisis.
He further confirmed the arrival of 862 wounded West Darfuri at Adré Hospital. Most of them sustained injuries on the road between El Geneina and Adré.
Médecins Sans Frontières/Doctors Without Borders (MSF) is providing medical treatment to the wounded, with some cases requiring transfer to the Chadian city of Abeche, due to the seriousness of their injuries.
Between June 15 and 18, nearly 900 wounded West Darfuri sought medical assistance in Adré. Refugees spoke of being shot at while attempting to escape the violence in El Geneina, according to MSF.
Stranded
More than 5,000 people have reportedly been killed, and an additional 8,000 wounded in 17 brutal attacks that ravaged El Geneina between April 24 and June 12.
Mojeebelrahman Yagoub confirmed that many people are still stranded in El Geneina.
During the past two days, "residents were ambushed by the RSF on their way to the military command of the 15th Infantry Division, seeking protection," he said.
'Dead bodies litter the streets'
The Darfur Bar Association reported on Wednesday that in El Geneina "dead bodies litter the streets, homes, and various public facilities".
Last week, Yagoub characterised the violence in El Geneina as 'worse than Rwanda'. MSF called it "one of the worst places on earth".