Young activist escapes security forces grip in Sudanese capital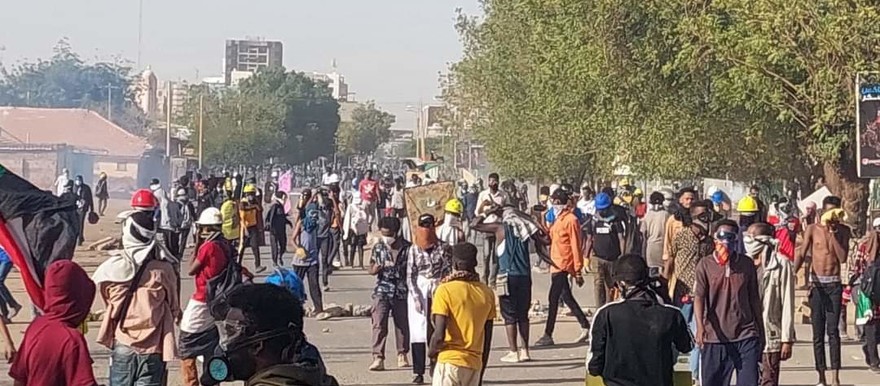 ---
Last week, a 19-year-old activist and photographer managed to escape from two security officers in Khartoum. The men wanted to seize him because of a video he had posted on Facebook.
The African Center for Justice and Peace Studies (ACJPS) reported on Wednesday that two security officers dressed in plain clothes attempted to detain photographer Sakhar Abdin Taha in Khartoum on the morning of March 24. Taha specialises in covering human rights violations during anti-coup protests in Sudan.
At about 10:00, the two men who introduced themselves as Military intelligence officers stopped the public transport van Taha had boarded at the Soug El Arabi in central Khartoum. They ordered the activist to disembark. Yet, as soon as he left the van, he ran away from the officers. The officers tried to stop him by shooting in the air, but he managed to flee, ACJPS reported.
Taha had posted on his Facebook account what had happened to him four days before, when he was detained by eight armed men dressed in plain clothes. The men took him in a vehicle, beat him, and threated to kill him and harm his relatives and other people close to him in case he would continue covering the regularly organised anti-junta demonstrations in the capital.
He was also told not to testify in the case against a Central Reserve Police officer who shot a young protester dead during pro-democracy marches in Khartoum North on February 28.
That day, Taha recorded a 54 seconds video showing how the officer targeted and shot the young protester. The officer was immediately handed to the office of the prosecutor for investigation. The video played big role in advocating against police brutality while policing anti-coup rallies and peaceful protests in Sudan, ACJPS noted.
Taha is well-known human rights monitor who is always in the front lines of anti-junta protests. During a rally in Khartoum in January, an unidentified officer called him by name and threatened to kill him.
"The ongoing harassment and intimidation of human rights defenders by the Sudanese transitional authorities is a clear violation of Sudan's national, regional and international human rights obligations," the African Center states. "Over the years, the Sudanese authorities have used restrictive Criminal and Emergency laws with hefty penalties to target human rights defenders."
ACJPS has reported incidents where activists have been judicially harassed for their online activities. In August 2022, an activist was held in Zalingei, capital of Central Darfur. He was tortured and charged with defamation over a social media post. After the release of the infamous "54 seconds video" more photographers have been targeted. On March 16, Ibrahim Nugdallah and a man called Ahmed became "victims of police brutality" while covering the demonstrations in the capital.