UN OCHA and European Union call for humanitarian intervention in Sudan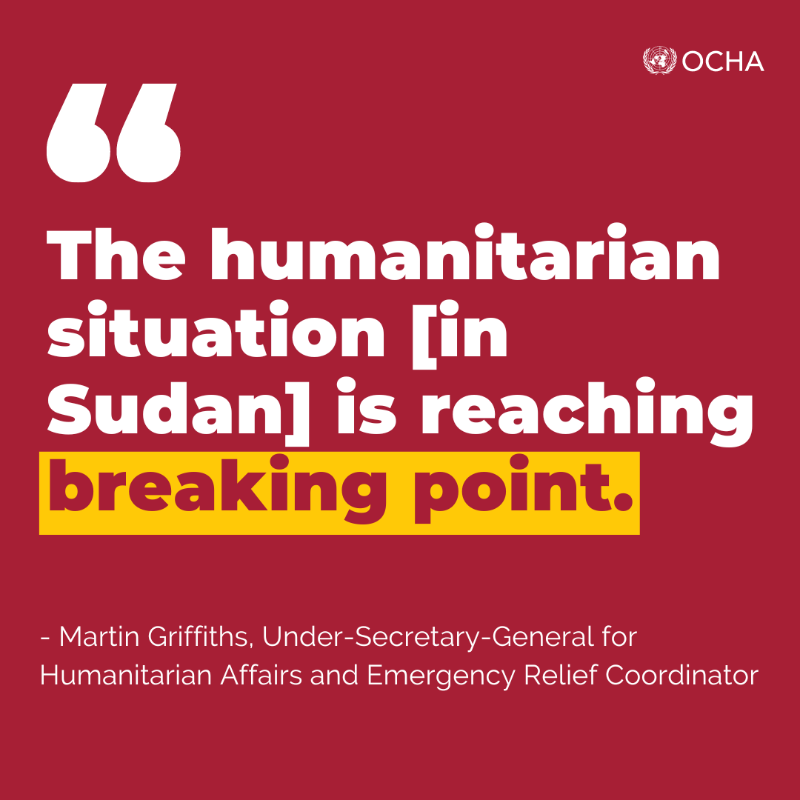 ---
A situation report by the United Nations Office for the Coordination of Humanitarian Affairs (OCHA) in Sudan highlights the high death toll, mass displacement, and the pressing need for health assistance due to the ongoing battles in the country. The European Union (EU) strongly condemns the armed conflict and calls for immediate action to protect civilians and ensure the delivery of humanitarian aid.
According to the OCHA situation report published on July 4, the war that broke out between the Sudan Armed Forces (SAF) and the paramilitary Rapid Support Forces (RSF) on April 15 has claimed the lives of at least 1,133 people and left 11,796 injured across the country until June 30.
15 aid workers have lost their lives, and others have sustained injuries since the conflict began.
The crisis has also forced more than 2.8 million people to flee their homes and seek refuge elsewhere.
The report by OCHA also emphasises the urgent health needs in Sudan, with approximately 11 million people requiring immediate medical assistance. This includes over 2.6 million women and girls of childbearing age, among them 263,000 pregnant women and more than 90,000 women on the brink of giving birth.
The death toll of 1,133 is likely to be a conservative estimate. Many Sudanese have spoken about how hard it is to retrieve bodies and record death tolls.
The violence in El Geneina, capital of West Darfur, alone is already estimated to have cost the lives of more than 8,000 people.
€256.4 million pledged
In a press statement on July 5, the EU strongly condemned the ongoing fighting in Sudan and demanded an immediate and lasting ceasefire.
The Union expresses deep concern over reports of large-scale attacks on civilians based on ethnicity, notably in Darfur, in addition to "horrific reports of widespread sexual and gender-based violence, targeted killings, forced displacement and the steady arming of militias".
The emergence of new battlefronts in South Kordofan adds to the growing concern.
The EU commends the unwavering dedication of health and humanitarian workers and urges removal of bureaucratic obstacles hindering their efforts. The Union calls on all parties involved to facilitate the delivery of humanitarian aid and ensure unimpeded access for aid operations.
With a total of €256.4 million allocated for humanitarian and development assistance to Sudan in 2023, the EU reaffirms its strong support and solidarity with the Sudanese people, particularly those "who led a peaceful revolution four years ago".
An amount of €20 million is reserved to help Egypt cope with the influx of refugees fleeing Sudan.
The EU emphasises the crucial role of regional protection for the millions of Sudanese forcibly displaced by the conflict and commends neighbouring states for their continued reception of refugees. They must "facilitate the delivery of immediate, unhindered, efficient and unconditional humanitarian assistance and protection".