Humanitarian situation at Sudan-Egypt border dire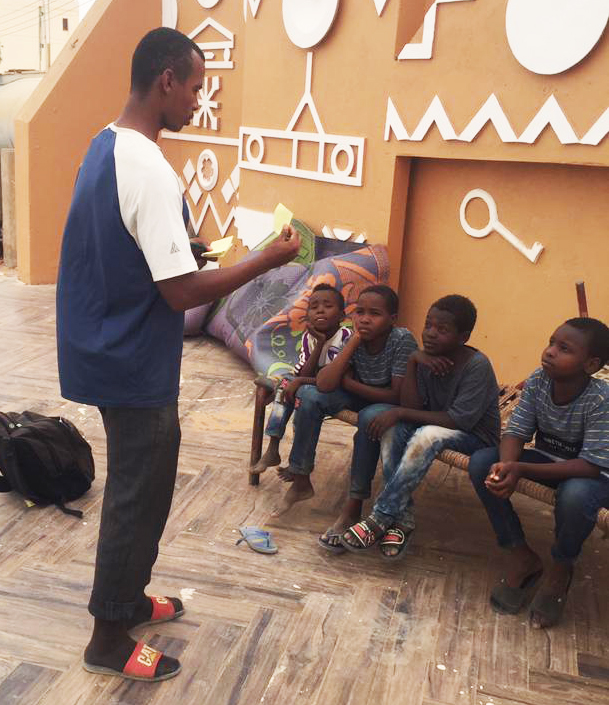 ---
For hundreds of thousands who fled their homes amid the Sudan conflict, Wadi Halfa in Northern State is the last stop before the Egyptian border, where many have now been waiting for months to obtain an entry visa to Egypt. The humanitarian situation is dire, however people like Mohamed Mansour make use of their time constructively to assist the community
While waiting for his visa to be issued, Mohamed Mansour has started a free English teaching initiative for stranded families.
"I left home because the situation was worsening daily. Electricity and water were cut and we had been waking up to bombings. I arrived in Wadi Halfa weeks ago and am currently living in a mosque along with many others," Mansour told Radio Dabanga yesterday.
"Despite the catastrophic situation, I like to spread positivity and hope, that is why I started teaching English."
All Families have welcomed the idea and currently 15 people joined, "we meet every evening at the Wadi Halfa podium, and we communicate in English.
Most of the people who join are children, who are very enthusiastic about learning the language. One of them is Sahar, an eight-year-old girl who fled her home and lost her school. "She is always on time and she keeps telling me 'let us start I want to learn'."
In the morning Mansour sells tea and coffee to generate income as prices are skyrocketing daily.
UNICEF
According to UNICEF over 13.6 million children are in urgent need of life-saving humanitarian support.
In a press release on Thursday , UNICEF Regional Director for the Middle East and North Africa Adele Khodr, said that the toll on children of Sudan is worsening rapidly," They are not just numbers, they are individuals with families, dreams and aspirations, and they deserve a chance to survive and thrive."
A situation that was already dire for children before the conflict is now at catastrophic levels, "without an immediate and extensive humanitarian response, the consequences of displacement, lack of basic social services, and protection will have devastating – and long-term – effects on children."
Khodr added that "Over 620,000 children are suffering from severe acute malnutrition, half of whom may die if not helped in time.
"Despite the challenges with humanitarian access and security due to the active conflict, UNICEF continues to deliver much needed health, water and sanitation, and nutrition supplies across the country."
Doctors Without Borders
Ahmed Abdelrahman, director of operations at Doctors Without Borders (MSF) told Radio Dabanga on Wednesday that "more than 60,000 people crossed the border to seek safety in South Sudan."
He confirmed that they have a team in Renk, a town close to the border with Sudan. "The situation in the town is devastating and new refugees are sleeping on floors without a roof over their heads."
At the Egyptian border, Abdelrahman says that MSF, in cooperation with the Egyptian Red Crescent, has sent a team to Aswan to evaluate the situation there, "the Argeen and Ashkeet borders are overcrowded and the infrastructure is lacking," he concluded.