Khartoum JPA conference under fire as Cairo workshop forms committees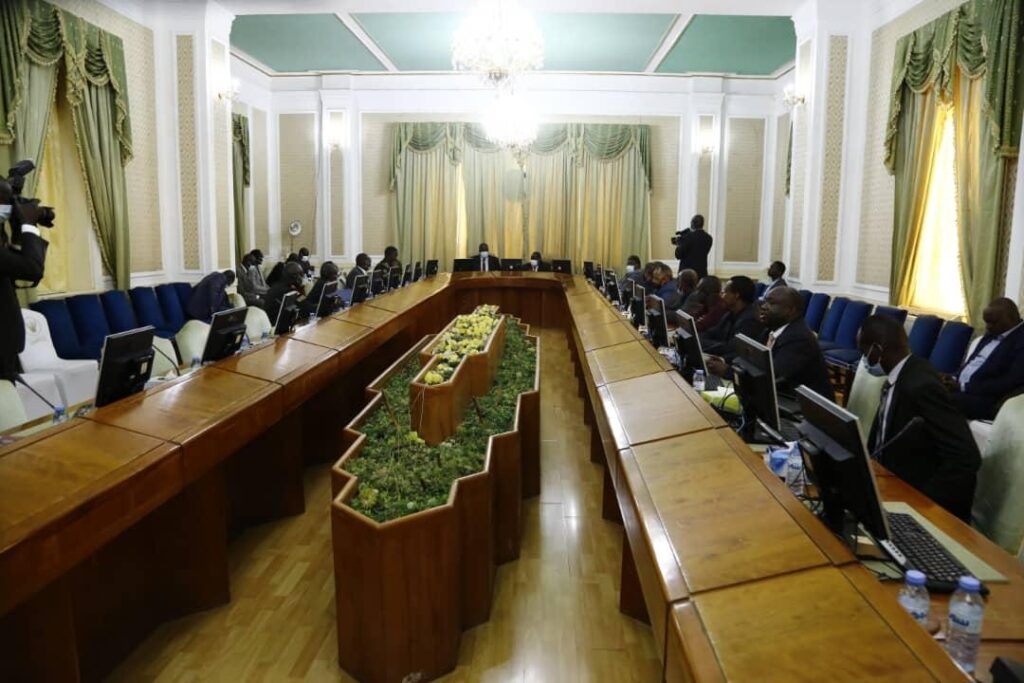 ---
As workshops to discuss critical issues in Sudan began in Cairo on Thursday, the contentious Juba Peace Agreement (JPA) conference in Khartoum received "a lot of criticism" from attendees. Darfur displaced do not have much confidence in its outcomes.
Signatories to the Juba Peace Agreement (JPA) received "a lot of criticism and attacks" from attendees to the conference, organised by representatives of signatories of the Framework Agreement and the AU-IGAD-UNITAMS Trilateral Mechanism, which concluded on Friday. 
Alaeldin Nugud, spokesperson for the Sudanese Professionals Association and member of the committee that co-organised the JPA conference, said that the signatories to the JPA who attended the workshop acknowledged their failure to implement the terms of the agreement. 
He said that the participants from conflict areas expressed their dissatisfaction with the "intransigence of the signatories to JPA" and their failure to attend the conference.
Attendees called on holdout rebel movements, Sudan People's Liberation Movement-North faction under the leadership of Abdelaziz El Hilu and Sudan Liberation Movement led by Abdelwahid El Nur (SLM-AW), to join the current political process, Nugud said.
"The recommendations of the conference will be included in a final agreement with the military junta and return the country to the path of democratic transformation," he said in a statement on Sunday. According to the SPA, one of the most important recommendations of the workshop is the formation of a mechanism to help with the implementation of the JPA.
Darfur uninvited
Yagoub Furi, head of the Darfur Displaced and Refugee Camps Coordination, said the JPA conference is "a repetition of failure, a waste of money and time, and misleading to international actors."
"The recommendations of the conference do not include anything new," he said. "Changes in the situation of the displaced depend on the formation of a real civilian government, which should be formed before discussing peace issues." 
Saleh Eisa, head of the Darfur Displaced and Refugee Camps Administration, also played down the importance of the conference in addressing the issues of the displaced and achieving peace.
"We have nothing to do with the recommendations of the Peace Conference because of our absence and non-participation," he told Radio Dabanga.
Last week, Darfur displaced reported to Radio Dabanga that their invites were cancelled at the last minute, meanwhile, some community leaders were not invited at all.
"The aim of this workshop is not to amend, cancel, or denounce the JPA but to focus on exploring drivers of conflict and ways to better implement and revitalise it while safeguarding its gains," said Volker Perthes, UN Special Representative for Sudan and head of UNITAMS, at the launch ceremony of the conference.
Cairo conference
The participants of the inter-Sudanese workshop in Cairo will present their recommendations today. Participants reported that committees were formed on Friday to discuss several crucial issues to resolve the crises in Sudan.
It was agreed that the committees that will discuss constitutional issues will be headed by prominent human rights defender Nabil Adib.
Mustafa Tambour, a former member of the holdout Sudan Liberation Movement under the leadership of Abdelwahid El Nur (SLM-AW), told Radio Dabanga last week that "delegates from a large number of political groups – with the exception of the FFC-Central Council – will participate in the Cairo workshop."
Below is a list of committees formed for the workshop on Friday, and who will chair the discussion on each:
Amendments to the 2019 Constitutional Document by member of the Democratic Unionist Party (DUP) Mohamed Sayed Ahmed
Juba Peace Agreement by rebel leader and Darfur Governor Minni Minawi
Governance of eastern Sudan by Beja leader Nazir Sayed Tirik
National reconciliation and transitional justice by leading member of the Republican Party Haydar El Safi
Institutional reforms by Noha El Nagor of the Umma Party for Reform and Renewal (UPPR)
Dismantling of the Al Bashir regime by head of the Democratic Alliance for Social Justice Ali Askouri
Transitional Programme Committee by DUP leader Jaafar El Mirghani
The Transitional Structures Committee by head of the National Movement Forces El Tijani Sese
Drafting Committee by UPRR president Mubarak El Fadil El Mahdi
Youth Issues Committee by founder of the Together We Save a Homeland initiative and Vice President of the Living Revolutionary Forces Alliance Nidal Hisham Yasin
Media Committee by Justice and Equality Movement advisor Abdelaziz Oshar