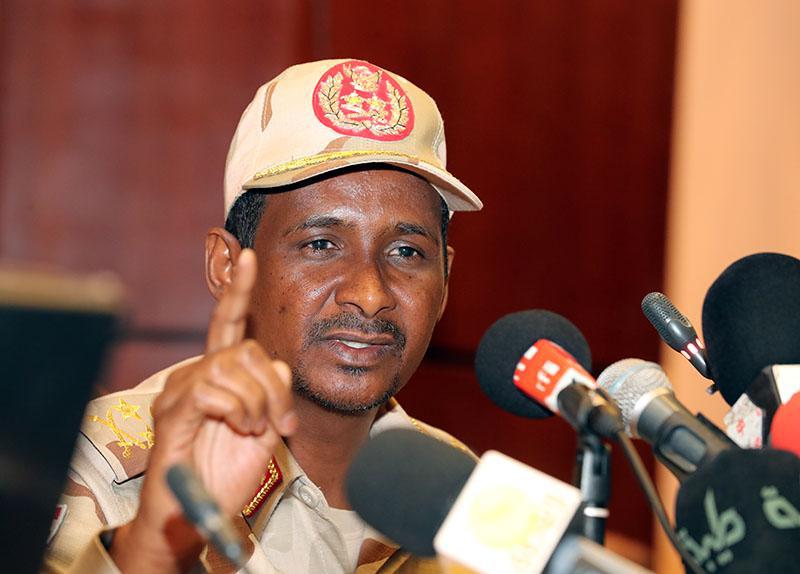 Commander Mohamed 'Hemedti' Dagalo asserts the continued Rapid Support Forces (RSF) presence in Khartoum, emphasising that RSF has "no intention of seeking control over Sudan" but will "fight on to the last soldier", in an audio recording posted on X (formerly known as Twitter) on Monday. Hostilities continued in Khartoum as clashes resumed between the Sudanese Armed Forces (SAF) and the RSF. Reports of civilian casualties, attacks, and kidnappings continue to emerge from North and South Darfur.
The RSF launched another attack on El Shajara Armoured Corps in Khartoum on Tuesday, with battles continuing in the vicinity of the Armoured Corps base in El Mohandesin in Khartoum.
Sources informed Radio Dabanga that the RSF shelled El Shajara Armoured Corps on Tuesday. Listeners in Khartoum reported an escalation of military operations in Old Omdurman, along with bombings in Khartoum North (Bahri) and ground attacks. The battles in Omdurman on Monday killed 25 civilians.
On Monday, the RSF alleged it downed two Antonov planes in Khartoum, while the SAF did not comment.
Hemedti's address
In an audio recording released on X (formerly known as Twitter) on Monday, RSF Commander Mohamed 'Hemedti' Dagalo stated that the RSF maintains a significant presence in Khartoum, Omdurman, and Khartoum North, emphasising that they have "no intentions of seeking control over Sudan".
Hemedti clarified that the RSF's stance is not against the SAF, but rather against what he referred to as the 'remnants of the former regime.' He urged SAF soldiers to align themselves with the "will of the people". The RSF commander denied allegations of mistreating prisoners, instead accusing the army of killing captured RSF soldiers "and their families".
Siddig Tawir, a former member of the Sovereignty Council and a prominent figure in Sudan's Arab Socialist Ba'ath Party, downplayed the significance of Hemedti's audio recording. Tawir pointed out that the recording lacked any reference to ending the ongoing conflict, and expressed disappointment that Hemedti's speech did not offer concrete political solutions to end the war.
Retired Maj Gen Amin Ismail believes that Hemedti's audio recording was a response to El Burhan's recent appearances in Cairo and Juba. Ismail argues that the speech was "centred around personal disputes between El Burhan and Hemedti, rather than addressing the broader concerns of the Sudanese people, democracy, and accountability for incidents such as looting, plundering, and occupying hospitals and civilians' homes".
Journalist Fatima Lagawa viewed Hemedti's audio recording as a commitment to achieving democracy, "unlike El Burhan's speeches" which she believed "intend to destabilise the state".
Lagawa commended the straightforward language used in the speech to clarify recent events' motives and causes to the Sudanese people. She asserted that the address shows the war was imposed on the RSF and accused El Burhan of lacking genuine intentions to reach a peaceful resolution.
Darfur attacks
A resident of El Jir neighbourhood in Nyala, Ikhlas Ahmed, was killed when a shell struck her home on Monday. This incident occurred during an exchange of artillery shelling between the army and the RSF. Nyala, the capital of South Darfur, witnessed intensified fighting since last month. At least 30 people died in Nyala last week when they were hit by a missile while sheltering under Teiba Bridge.
In West Darfur, the RSF and affiliated armed groups initiated attacks in the areas of Gorni and Abu Suruj, in Sirba on Sunday. These attacks persisted until Tuesday. There are reports of kidnapping of two native administration leaders and several hostages near Abu Surouj. Tensions remain high in Gorni and Abu Surouj due to fears of further violence and a recurrence of events like those witnessed in El Geneina.
In North Darfur, a young man living in El Fasher was shot in front of his house by unknown gunmen on Monday evening. Despite being rushed to El Fasher Southern Hospital, he did not survive the operation.
El Fasher, the capital of North Darfur, experienced a relative calm on Tuesday morning following intense shooting and shelling on the eastern side of the city on Monday evening. Residents attributed the disturbance to RSF members attempting to enter El Fasher Grand Market. However, members of rebel movements responsible for protecting the markets thwarted their efforts.
Moreover, residents of El Fasher grapple with an increase in malaria cases and an outbreak of watery diarrhoea. This health crisis is exacerbated by the suspension of health services and the absence of organised sanitation and health awareness campaigns, leading to a rise in mosquito and other disease-carrying insects.
On the economic front, workers face continued salary delays, with payments overdue for five months. Listener Hamedelnil described dire humanitarian conditions in El Fasher, "where most families are compelled to live on just one meal a day, despite the accumulation of subsidised food supplies from Libya in local markets".