Renewed RSF violence intensifies humanitarian crisis across Sudan's capital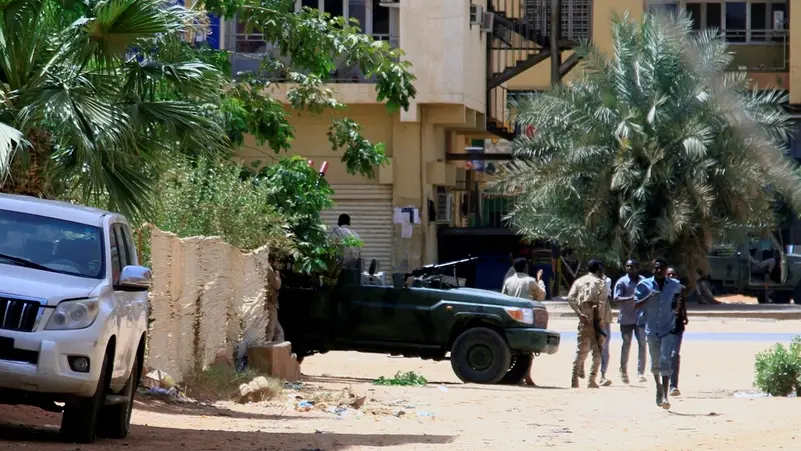 The Rapid Support Forces (RSF) launched their 19th attack on Khartoum's El Shajara Armoured Corps, as residents report relentless artillery and aerial bombardments in the capital and its sister cities. Three doctors travelling from El Gedaref to assist at a hospital in Sharg El Nil in Khartoum North were allegedly detained by the RSF. Humanitarian conditions in the capital are becoming 'exceedingly complex' as supply shortages and insecurity plague residents of Khartoum who are unable to leave.
The paramilitary Rapid Support Forces (RSF) continued their assault on El Shajara Armoured Corps in Khartoum on Wednesday, marking the 19th attack on the military complex. Simultaneously, battles persisted in the vicinity of El Mohandesin Armoured Corps in Omdurman. Residents from multiple neighbourhoods in Khartoum said that artillery and aerial bombardments continued in several areas of the capital.
El Kalakla El Guba Emergency Room and Resistance Committees issued a distress call regarding food supply shortages, due to the siege of neighbourhoods in southwestern Khartoum. They warned that the current situation "jeopardises the lives of residents of El Kalakla El Guba, El Shajara, El Azuzab, and El Lamab".
On Wednesday, a missile hit a residential house in Karari, Omdurman, killing two civilians and injuring others.
A journalist told Radio Dabanga that Karari is experiencing a three-day water supply interruption, coupled with unstable electricity supply. He added that there is a mass exodus from Ombadda El Hara 21 in Omdurman due to the intense bombing on Monday, which claimed the lives of at least 20 people.
The Karari Emergency Room urgently appealed to the Change and Service Committees*, along with Gharb El Harat Emergency Room, to open schools to accommodate people fleeing Ombadda, due to the fierce clashes between the Sudan Armed Forces (SAF) and the RSF.
Journalists told Radio Dabanga that El Nau Hospital in El Sawra 8, Omdurman received the deceased and injured from Ombadda El Hara 21, noting severe injuries, including amputations, because of the bombings.
Sudan's Emergency Lawyers vehemently condemned the Ombadda El Hara 21 'massacre', "which occurred as a result of indiscriminate artillery shelling by the SAF on September 5". According to a statement released yesterday, "the incident claimed the lives of 32 civilians, including children, women, and the elderly, leaving dozens seriously injured and numerous homes demolished". The lawyers highlighted that using heavy and light artillery in civilian-inhabited areas constitutes a war crime.
Doctors detained
Sharg El Nil Emergency Room accused the RSF of detaining three doctors who had traveled from El Gedaref to volunteer at El Ban Jedid Hospital, Sharg El Nil (East Nile) in Khartoum North, on Saturday. The detention reportedly occurred upon the doctors' arrival at an RSF base near the Teiba Camp in Jebel Aulia.
According to the statement, "the detainees, who are held under harsh conditions by the RSF, are deputy specialists Mohamed Hasan and Mohamed Awad, and paediatric specialist Esam Saleh".
The Emergency Room demanded the immediate release of the detainees. They highlighted that El Ban Jedid Hospital, and health centres operating under the management of Sharg El Nil Emergency Room are the primary healthcare authorities in the region, "handling critical cases and injuries around the clock".
Humanitarian conditions
The residents of Khartoum state are enduring dire humanitarian conditions due to the ongoing clashes between the SAF and RSF since last April.
A resident in Omdurman said that the persistent battles create exceedingly complex humanitarian conditions in the capital and its sister cities. "Khartoum is grappling with a shortage of essential food items and a lack of financial resources. People are struggling to acquire necessities such as food, medical treatment, and other essentials for daily life", he told Radio Dabanga.
According to the resident, the state has not received any assistance from humanitarian organisations, and residents are unable to leave the capital. "Attempting to leave may result in encounters with SAF or RSF checkpoints, potentially leading to accusations of affiliation with one of the warring parties. Those who are not detained may not escape assault", he explained.
He further noted that the situation appears to be deteriorating into a regional and ethnic conflict. "People are categorised based on their geographical origin or tribal affiliations, with charges being pressed on these grounds."
---
*On November 5, 2019, the Minister of the Federal Government issued a ministerial decision to establish Change and Service Committees in neighbourhoods, markets, and industrial areas. These committees replaced the People's Committees previously established by the former regime as the fundamental units of administration at the community level.
As defined by the ministerial decision, "the Change and Services Committees are popular organizations in neighbourhoods, villages, markets, and industrial areas. They contribute to spreading citizen awareness, helping people learn about their rights and duties, and working to satisfy their desires by providing necessary basic services, fostering development, and ensuring security and stability."