Five dead in Sudan capital, fire engulfs Yarmouk military plant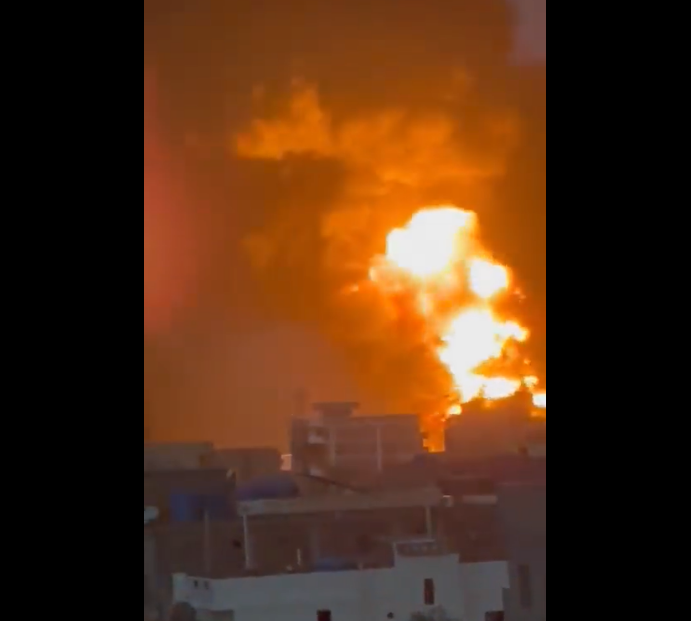 KHARTOUM / KHARTOUM NORTH / OMDURMAN –
---
Battles between the Sudanese army and the Rapid support Forces (RSF) continued in the country's capital on Thursday. The fire at the Yarmouk military complex south of El Shajara in western Khartoum that started on Wednesday continued unabated. The RSF claims control over the complex and its ammunition depots.
Civil society activist Mudasir Fadul reported to Radio Dabanga yesterday that sounds of artillery and airstrikes were heard in southern and western Khartoum, Karari in Omdurman, and Khartoum North.
During sunset prayers on Wednesday, a shell struck a mosque in El Safya in Khartoum North, claiming the lives of five worshipers.
The Resistance Committees Coordination of Karari in Omdurman reported intense shelling by the Sudan Armed Forces (SAF) from the military base north of Karari. They said the attacks targeted "hidden RSF supply stations in Omdurman and Khartoum North.
Fierce fighting also took place in Sharg El Nil in Khartoum North (Khartoum Bahri) and the southern parts of Khartoum, confining residents to their homes.
Yarmouk
The fire at the fuel and gas storage tanks at the Yarmouk military plant south of the El Shajara residential area was reportedly caused by bombing during intense clashes between army forces and the RSF on Wednesday.
On Tuesday, the RSF launched an attack on the Yarmouk military manufacturing plant. In various videos posted on social media on Wednesday, the paramilitaries claimed they took control of the entire complex.
The Sudanese army did not issue any statement on the matter. Radio Dabanga has been unable to obtain a comment from the SAF.
Fierce battles persisted in the vicinity of the army complex on Thursday.
Residents of the area informed Radio Dabanga that the warehouses continued to burn throughout the night, with flames visible from various parts of the capital. Thick columns of smoke were observed until Thursday morning.
'Victories on the ground'
Journalist and political analyst Maher Abuljookh stated that the RSF attack on the Yarmouk army complex and ammunition facilities aims to tighten the siege on the army corps in El Shajara.
The RSF is "seeking political gains for the negotiation process, including advocating for a ceasefire and determining the positioning of the parties," he said.
"The RSF aims to secure tangible ground victories that can be translated into negotiations," Abuljookh explained. "Such victories may lose military significance if forces were to withdraw from cities and the protection of the country were to be undertaken by joint African or other forces".
Military expert Maj Amin Majzoub however denied reports of the RSF taking control of the military complex near El Shajara. "It remains under the control of the SAF," he said. "The RSF's attempted attack on Yarmouk aimed solely at achieving a media victory, which they were unable to accomplish."
More than 10 years ago, in in October 2012, the Yarmouk compound, including the munitions factory, witnessed large explosions when the area was bombed, reportedly by Israeli fighter jets.