♦ Sudan: This week's news in brief ♦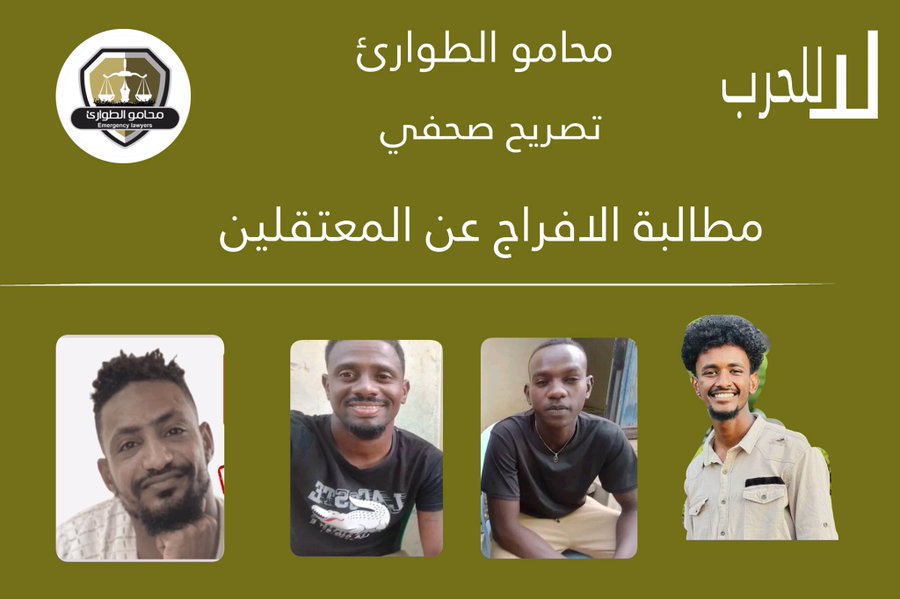 DABANGA SUDAN – May 23, 2023
---
Sudan's warring parties 'detain activists, hold volunteers incommunicado' 
 
KHARTOUM / WAD MADANI – May 19, 2023. Both the Sudan Armed Forces (SAF) and the Rapid Support Forces (RSF) reportedly detained 'hundreds of activists and volunteers' in the country's capital. Two young activists charged with killing a police officer in Khartoum more than a year ago were held in Wad Madani, El Gezira, on Tuesday.
 
Military Intelligence took three members of the Khartoum North (Khartoum Bahri) Neighbourhood Committees from their homes on Tuesday and brought them to El Zakheera camp in El Kadaro in the northern part of the city. The same day, RSF paramilitaries seized volunteer Mohamed Ezzeldin near the Arkoweet Emergency Room in Khartoum while he was collecting medicines and distributing them to patients in the neighbourhood. It is unclear where he has been taken.
---
Rapid Support Forces occupy cathedrals in Sudan capital
 
KHARTOUM – May 17, 2023. The Rapid Support Forces (RSF) are occupying the Episcopal All Saints Cathedral and the Coptic Virgin Mary Cathedral in Khartoum. Paramilitaries of the RSF stormed the All Saints Cathedral in Khartoum II and turned it into a military base.
 
"The main gate and the doors to the offices were opened by force," Rev Ezekiel Kondo, archbishop of the Episcopal Anglican Church of Sudan and bishop of Khartoum reported. "They threatened the guard with a gun and stole the vehicle of the diocese. Nobody knows what happened to the rest of church property," he stated. "The church leadership and the entire Christian episcopal community condemn this disrespectful act," the archbishop added. "
---
Humanitarian truce welcomed in Sudan and abroad
JEDDAH / KHARTOUM – May 22, 2023. The agreement on a seven-day short-term ceasefire and humanitarian arrangements, signed in Jeddah in Saudi Arabia on Saturday, which becomes effective at 21:45 (Khartoum time GMT+2) this evening, has been welcomed by government, political, and civil society organisations within Sudan and abroad.
 
Sudan Journalists Syndicate demand RSF leaves broadcasting HQ
KHARTOUM / OMDURMAN – May 21, 2023. As Sudan entered its 34th day of war on Friday, the Sudanese Journalists Syndicate (SJS) released a statement condemning the Rapid Support Forces' (RSF) use of "media and press institutions as a field of military battles."
 
As many as 2,000 reported dead in West Darfur violence
EL GENEINA / EL FASHER – May 16, 2023. Residents of El Geneina reported more heavy gunfire and artillery fired at residential areas and mosques, forcing more people to flee. Over 2,000 people might have died in El Geneina in the past violent weeks. Darfur regional authorities held a meeting to discuss the situation.
 
Open letter to support Sudanese refugees seeking safety in Egypt
ARGEEN / PORT SUDAN – May 16, 2023. An activist group published an open letter to urge the Egyptian government and UNHCR Egypt to provide better support to those fleeing Sudan as clashes continue and the humanitarian situation is deteriorating rapidly. In Port Sudan, Red Sea state, a large number of Sudanese is still waiting to leave the country by air or by sea.
 
Sudan war: church attacked, mosques bombed, and more hospitals raided
KHARTOUM / OMDURMAN / KHARTOUM NORTH – May 15, 2023. More violent incidents were reported in greater Khartoum over the weekend. A Coptic Church was attacked on Sunday morning. Four people were hit by bullets and a priest was assaulted. Mosques were bombed. Two hospitals were raided, reportedly by members of the Rapid Support Forces (RSF).
 
Famous Sudan singer slain in SAF-RSF violence despite Jeddah humanitarian declaration
OMDURMAN / KHARTOUM – May 14, 2023. The famous Sudanese singer Shaden Gardood was killed during the recently renewed clashes between the Sudanese Armed Forces (SAF) and paramilitary Rapid Support Forces (RSF) in Omdurman on Friday, despite the agreed humanitarian declaration that was signed by the two parties in Saudi Arabia's city of Jeddah on Thursday.
 
Sudanese journalists condemn attacks, 'anonymous lists'
KHARTOUM – May 13, 2023. A group of paramilitaries of the Rapid Support Forces (RSF) raided the office of El Hirak El Siyasi newspaper in Khartoum on Thursday. A Sudanese photojournalist was shot in the back last week. On social media anonymous lists are circulating, that 'reveal' names of journalists allegedly working for the army or the RSF.
 
Heavy fighting in North Darfur capital amidst 'alarming increase in food prices'
EL FASHER / SIRBA / EL GENEINA – May 12, 2023. El Fasher, the capital of North Darfur, has been witnessing intense fighting during the past days. People in the city, but also in other places in Darfur complain about "staggering food prices". The airport of El Geneina in West Darfur has been closed for three weeks due to power outages.
 
New report highlights escalating propaganda campaigns in Sudan
NEW JERSEY – May 10, 2023. In addition to physical dangers posed by bullets and shells, Sudanese are being bombarded with propaganda by the warring parties, making it increasingly challenging to get an idea of the situation on the ground. The latest Sudan Conflict Monitor report sheds light on the escalating propaganda campaigns in the ongoing conflict in the country.