Thousands more flee to Chad after attacks in West Darfur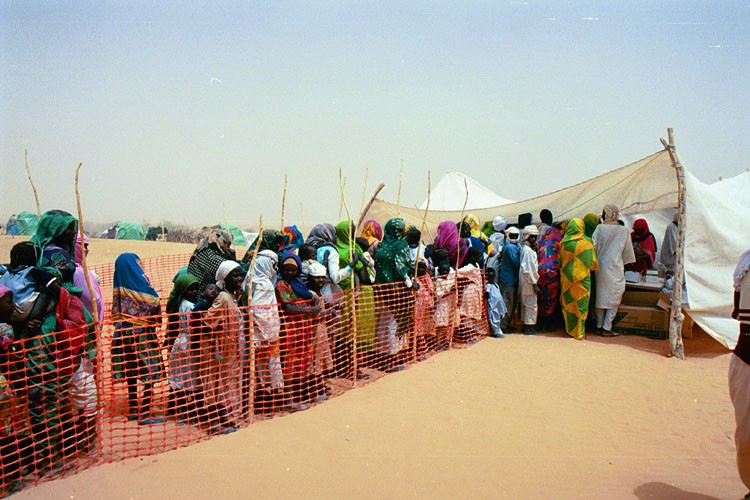 SILA (CHAD) – MAY 30, 2023
---
Groups of armed men with heavy weapons attacked the border areas of Foro Baranga, Misterei, and Jebel Darandi in West Darfur. Thousands have fled into Chad, where they tell their stories as communication blackouts still persist across Darfur.
Sources from Chad told Radio Dabanga that militants renewed their attacks on the border areas of Foro Baranga on Friday and Saturday.
They also reported that they attacked Misterei on Saturday and the Darandi mountain area southwest of El Geneina on Sunday.
The attacks cause huge losses that have not been counted as the communication networks in the area have been cut off.
Various news outlets, including Sky News, reported that people are arriving in Chad with gunshot wounds. Thousands have crossed the border in the past few days.
One woman told Sky News that she fled with her pregnant daughter and some of the children in her family but that her sister is still missing. "My sister's son has been killed and we had to leave him there. He's 11 years old," she said.
'My sister's son has been killed and we had to leave him there'
People who fled from West Darfur to eastern Chad told Radio Dabanga that one of them, a pregnant woman, was shot near the border on Saturday. She died of a gunshot wound to the head.
An entire family, consisting of five members, was reportedly killed in El Geneina three days ago. Armed robbers intercepted their vehicle and shot them dead.
As communication blackouts persist, it is the stories from refugees in Chad that help news outlets paint a picture and grasp the scale of the violence in Darfur.
Nearly 100,000 have arrived in Chad so far.
Ethnic tensions
Al Jazeera news spoke to refugees at the Borota refugee site in Chad, where a refugee told their reporter: "Any men they find on their way, they kill them."
Many said that they lost children or husbands in the fighting.
"The testimonies are hard to independently verify due to the blackout, but they are similar to those of refugees in other camps who described the indiscriminate killing of civilians, the ransacking of hospitals and the burning of entire neighbourhoods in different parts of Darfur."
Ethnic tensions seem to underpin the killings, "pitting armed Arab men against fighters from the Masalit ethnic group in confrontations that witnesses and survivors described as ferocious," Al Jazeera writes.
Many refugees describe their attackers as 'Arabs'.
There have growing concerns that the fighting is taking on an intercommunal dimension, reviving the tribal and political tensions that underpinned the 2003 Darfur civil war and subsequent genocide.
The Rapid Support Forces (RSF) who are fighting Sudan's army have in the past been predominantly recruited from the Rizeigat Arab herding tribe, which RSF Commander Mohamed 'Hemedti' Dagalo hails from, and many of the displaced people in West Darfur are from the Masalit, a non-Arab African farming tribe.
They were established by the Al Bashir regime in August 2013 and grew out of the janjaweed militant groups which fought for the Sudanese government in Darfur since the war broke out in 2003 and were largely made up of Arab herding tribes. The janjaweed are held responsible for the genocide against Darfuri farmers and other non-Arab/African groups and were also called 'devils on horsebacks'. 
Armed civilians
There have been several reports of civilians taking up arms to protect themselves. Recently, Minawi called on civilians to do so, but his appeal sparked criticism.
Lawyer Saleh Mahmoud, leading member of the Communist Party of Sudan, told Radio Dabanga that the call of the governor of Darfur to defend themselves by using weapons is an invitation to create complete and total chaos in which the central government evades its responsibility.
The National Umma Party (NUP) also warned against calls to arm citizens under the pretext of protecting themselves and warned of the plans of affiliates of the former regime to expand the circle of war.
The Socialist Arab Ba'ath Party also called on all Sudanese to refuse to participate in the war in any way, and to initiate the widest possible campaign to confront Minawi's call.
"Urging civilians to arm themselves under the pretext of self-protection means supporting the continuation of the war. Moreover, it will lead to an expansion of the scope of the war, geographically and socially, turning it into an all-out civil war."