UNHCR calls on countries to keep borders open to Sudanese refugees as numbers grow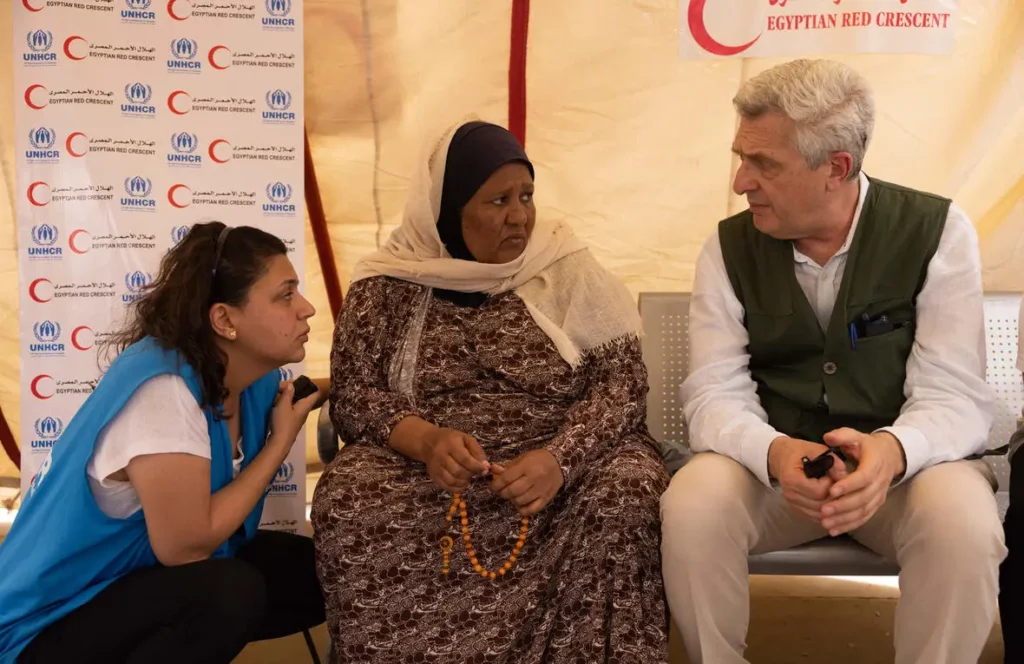 CAIRO / N'DJAMENA – May 30, 2023
---
The United Nations High Commissioner for Refugees (UNHCR), Filippo Grandi, has called on Egypt and other countries to keep the borders open to receive Sudanese refugees. He expressed his understanding of the challenges posed by the economic situation in host countries.
In Egypt, Grandi heard the "harrowing stories of refugees forced to flee the fighting in Sudan".
He appealed for borders to be kept open to those escaping the conflict and urged the international community to step up support for people fleeing Sudan and the countries hosting them, the UN refugee agency stated on its social media.
After meeting a number of Sudanese refugees in Egypt on Sunday, Grandi said Sudan's two warring military leaders should listen to the tragic stories he has heard from refugees fleeing horrific violence.
"If the two leaders really care about their people, they will stop the war now. Relief organisations can help, but the solution is in the hands of the two leaders."
'If the two leaders really care about their people, they will stop the war now'
Grandi also met with Egyptian President Abdel Fattah Al-Sisi. "I commend Egypt for its long-standing commitment to providing a safe haven to those fleeing violence," Grandi said.
The pair discussed how best to support refugees and mobilise resources for host countries, including Egypt.
In a press conference in Cairo after the three-day visit, Grandi mentioned talks on holding a donors conference to mobilise resources for Sudanese refugees, especially in Egypt, Chad, and South Sudan.
He stressed that the large numbers of Sudanese refugees need greater support from the international community.
The currently available funding can only meet up to 10% of the refugees' needs. Grandi appealed to the international community to provide $600 million to meet the needs of refugees.
Large numbers
At least 175,000 Sudanese people have arrived in Egypt and similar numbers to other countries, Grandi explained.
The United Nations Office for the Coordination of Humanitarian Affairs said that the war forced about 1.4 million people to flee their homes.
Roughly 100,000 have crossed the border into Chad, especially from West Darfur.
The Chadian authorities have allocated the Jebel camp in Sila in eastern Chad to host the increasing numbers of people fleeing the violence in Darfur.
Refugees in eastern Chad told Radio Dabanga that the Jebel camp is the fifth camp to host new refugees fleeing the war between the army and the RSF. The camp will host about 6,000 refugees.
Refugees are currently being transported to the new camp from the other places they are staying.
Chad is already one of the world's poorest counties and this new wave is refugees is putting a serious added burden on the country that is already grappling with significant food shortages.
South Sudan has also received more than 70,000 refugees.