Sudan humanitarian situation extremely dire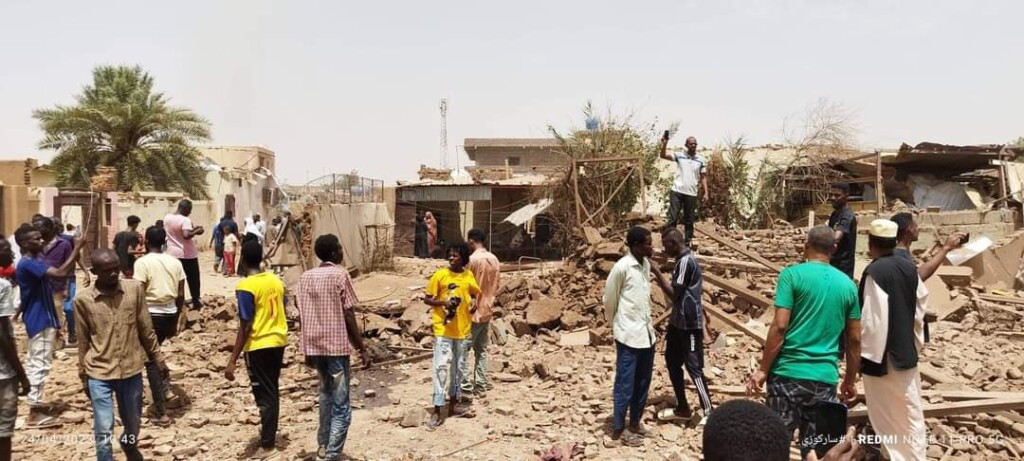 OMDURMAN / KHARTOUM – April 25, 2023
---
People living in the densely populated areas of Ombadda, El Salha, and El Shagla, and many other neighbourhoods in Omdurman are suffering from extremely dire humanitarian conditions because of the continuing battles between the Sudan Armed Forces (SAF) and the Rapid Support Forces (RSF).
Lawyer Salah Hashim told Radio Dabanga that the ground battles and the continuous bombardments from the air forces have led to a major humanitarian crisis that has disrupted services and paralysed transportation.
He explained that life has become very difficult and that the bombardments led to a serious drinking water crisis, increased prices, food scarcity, and a lack of fuel. Residents also struggle to move around in the city to visit shops or find shelter in Omdurman.
The East Nile area in the eastern part of Khartoum North is also witnessing a severe crisis due to the continuation of the battles.
Other sources reported that they were facing great difficulties obtaining food and other necessities, especially bread and vegetables. Fuel has become extremely expensive, local residents said.
They also reported that dead bodies are still left lying on many streets. "We don't dare to take them to the cemeteries because of the continued fighting and the many gangs robbing people in the streets." They warned of a "huge humanitarian catastrophe if this war continues".
'We don't dare to take [dead bodies] to the cemeteries because of the continued fighting'
In its latest update, the UN Office for the Coordination of Humanitarian Affairs (OCHA) in Sudan reported that after nine days of fighting at least 427 people have been killed and more than 3,700 injured.
The real number is likely to be much higher. The Central Committee of Sudanese Doctors explained last week that it is extremely difficult to count the dead as many bodies cannot be reached.
Many hospitals were forced to close their doors. OCHA stated that at least 11 health facilities have been attacked and many are no longer functioning at all in Khartoum and Darfur states.
There are also reports that many people are running out of money. They struggle to access their own money. Banks are closed and mobile banking is not working. People also have problems receiving transfers from abroad.
So, even people with more resources struggle to help those with less because they cannot access reserves.
Communication infrastructure
"RSF paramilitaries are still stationed in Omdurman, in particular in the neighbourhoods of El Shagla, El Muraba'at, Medinet El Nakhil, El Fitihab, El Bustan Blocks 18 and 19, and El Salha," Hashim said.
The Sudanese air force reportedly bombed the sites of the RSF near El Shagla, where radio transmitters are based, which caused the disruption of the wireless transmission strengthening services for radio and television services.
The communications network and internet services were almost completely cut off in Sudan from the early hours of yesterday morning until noon.
The suspension included the Sudani, Zain, and Canar telecommunications and internet companies, as well as the suspension of the recharge service of the MTN network. There was also a gap of several hours in which people were unable to receive phone calls from abroad.
Plea
On Saturday, a week after the clashes broke out, Omdurman resident Zeinab Adil (17) wrote: "When will this shooting stop? By God, we are so worn out with it. We don't have any mental or physical strength anymore. Every day, the shooting increases. The darkness, the sound of bullets and the warplanes, the lack of sleep, feeling suffocated, the waiting, the terror from the noise. We have become so sensitive that any sound frightens us.
'We don't have any mental or physical strength anymore'
"The lack of water and electricity, the bodies filling the streets… We have already been trapped for days. Our relatives who phone us crying. The fear on the children's faces because they do not understand what is going on… The injustice you feel every time you realise there is no one in the government that cares for us. They are all fighting for power and seats.
"We don't have an idea how long the fighting will continue and if we will survive it. We just ask you to remember us in your prayers. If we live, we will meet again, and if we die, have pity on us."
UN evacuation
As the situation is becoming increasingly unsafe, the United Nations and NGOs are temporarily relocating internationally recruited staff from Khartoum to Port Sudan with the intention of evacuating them to neighbouring countries where they will continue their work remotely.
About 700 UN, NGO, and embassy staff members and their families have arrived in Port Sudan by road.
The UN confirmed in a statement that it had evacuated 43 internationally recruited UN staff and 29 NGO staff from El Geneina, capital of West Darfur, and Zalingei, Central Darfur, to Chad.
International NGOs faced criticism that they are abandoning their local staff. Yousra Elbagir, Africa correspondent for Sky News, confirmed that the United Nations and NGOs evacuated their international staff from El Geneina but left behind Sudanese nationals.
"One young Sudanese man who relocated for his NGO job with War Child is stuck amongst intensified armed militia violence with only the shelter of his room for safety," she wrote on social media.
The UN did confirm that a limited number of internationally recruited personnel, including the Special Representative of the Secretary-General Volker Perthes, will remain in Sudan and will continue to work towards a resolution to the current crisis and monitor the UN-mandated tasks.
"Our presence on the ground has been adjusted in light of the security situation but let me assure you that there is no plan or thinking of the UN leaving Sudan," said the Special Representative of the Secretary-General (SRSG) for Sudan.
"We are committed to staying in Sudan and supporting the Sudanese people in every way possible. We will do everything we can to save lives while protecting the safety of our personnel."