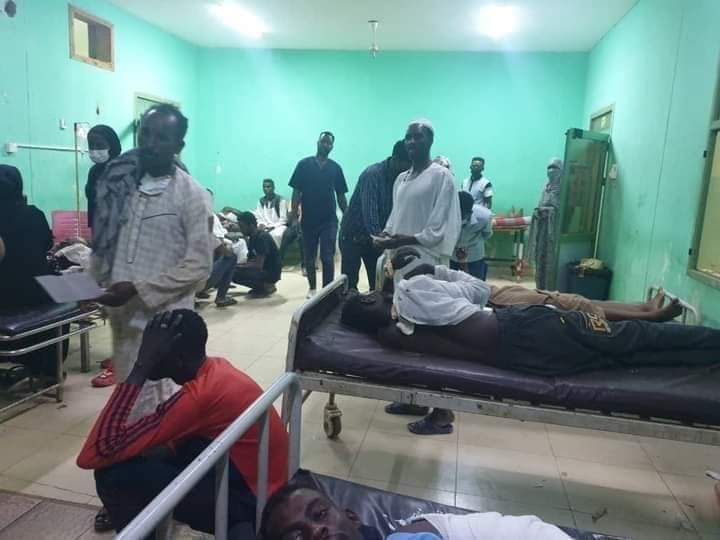 KHARTOUM – April 18, 2023
---
At least 18 hospitals in Sudan, including 13 in Khartoum state and five outside the capital, had to close their doors because of the fierce fighting between the Sudanese army and the Rapid Support Forces militia. 15 more hospitals are threatened with closure because of a lack of staff, fuel, and medical supplies and significant safety concerns, leaving many Sudanese unable to access medical care.
In a report yesterday, the Sudanese Doctors Syndicate reported that several hospitals and other health institutions have been damaged during the fighting.
The People's Teaching Hospital, Ibn Sina Specialist Hospital, and the El Bashayer Hospital in Khartoum are particularly damaged by the ongoing bombing and shelling.
The Central Committee of Sudanese Doctors (CCSD) reported that a stray missile had fallen on El Bashayer Teaching Hospital in southern Khartoum. No one was killed.
The El Moalem Hospital in Khartoum, not far from the SAF General Command, was reportedly shelled as well. Five eyewitnesses told CNN that the RSF laid siege to the hospital on Sunday. "I have no doubt that they deliberately targeted the hospital," said one medic who evacuated the hospital told CNN yesterday.
The hospital was full of patients, including wounded soldiers and their families. According to hospital employees, a wall in the hospital's maternity ward collapsed during the shelling. A 6-year-old child reportedly died in the building.
"At first we were praying for salvation," one medic told CNN. "Then when the shelling got worse, we started to discuss what would be the most painless part of the body to be shot in and began to pray instead to die painlessly."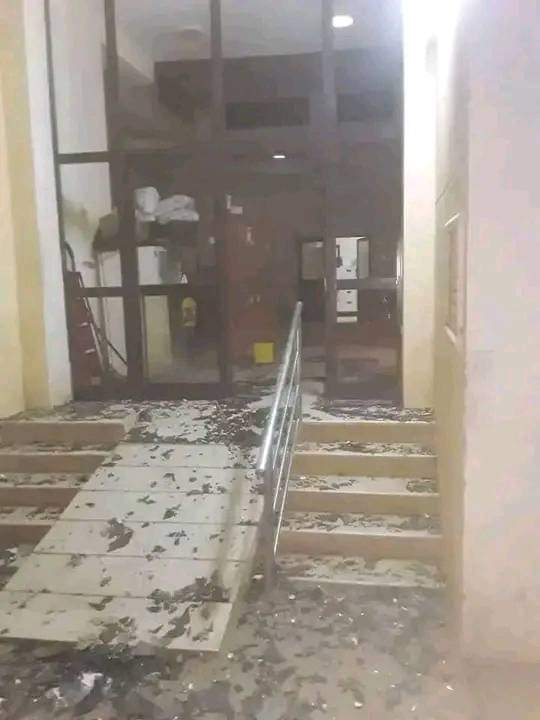 The bombing of hospitals is considered a clear violation of international humanitarian law and international charters that stipulate the protected status of health institutions.
The CCSD explained earlier today that it is extremely difficult to evacuate people or count the dead. Based on yesterday's records, it estimates that at least 144 civilians have died. This does not include today's records and the real number is likely to be higher as many bodies cannot be reached.
"What makes matters worse: many hospitals and health facilities are out of service due to being hit by missiles, power outages, and the scarcity of supplies," the organisation reported in a statement this morning.
They also explained that the targeting of hospitals "is considered a human and moral crime that contradicts laws and regulations, and traditions and customs".
"As we condemn in the strongest terms this ongoing war, we demand the opening of safe passages to treat the sick and injured, and to deliver food and medical supplies."
A ceasefire has reportedly been refused by the Sudan Armed Forces (SAF) and fighting continues.
Dire situation
The Sudanese Doctors Syndicate reported that the International Hospital in Khartoum North suffers from power outages. "The fuel for generators is about to run out, which puts the lives of patients in intensive care and surgical operations at risk of death."
The few hospitals that are still in operation, Khartoum and Omdurman are home to roughly 20 hospitals combined of which 12 have now been forced to shut, are overwhelmed and understaffed. They are running low on most supplies and are hampered by power and water outages.
Nyala Teaching Hospital in South Darfur was amongst the many hospitals forced to shut down due to a lack of blood and other supplies.
'We are running out of everything'
Before it was forced to shut completely after shelling yesterday, Dr. Amin Saad told The Associated Press that the situation in the Khartoum Teaching Hospital was dire: "We are running out of everything," "We are working with the least possible capabilities. … We're all exhausted, but there is a shortage of physicians."
Staff is struggling to reach the hospitals due to the shelling.
Several hospitals have been evacuated, including the Khartoum Teaching Hospital reports indicate, but patients and staff remain trapped in others, unable to leave due to clashes on the streets.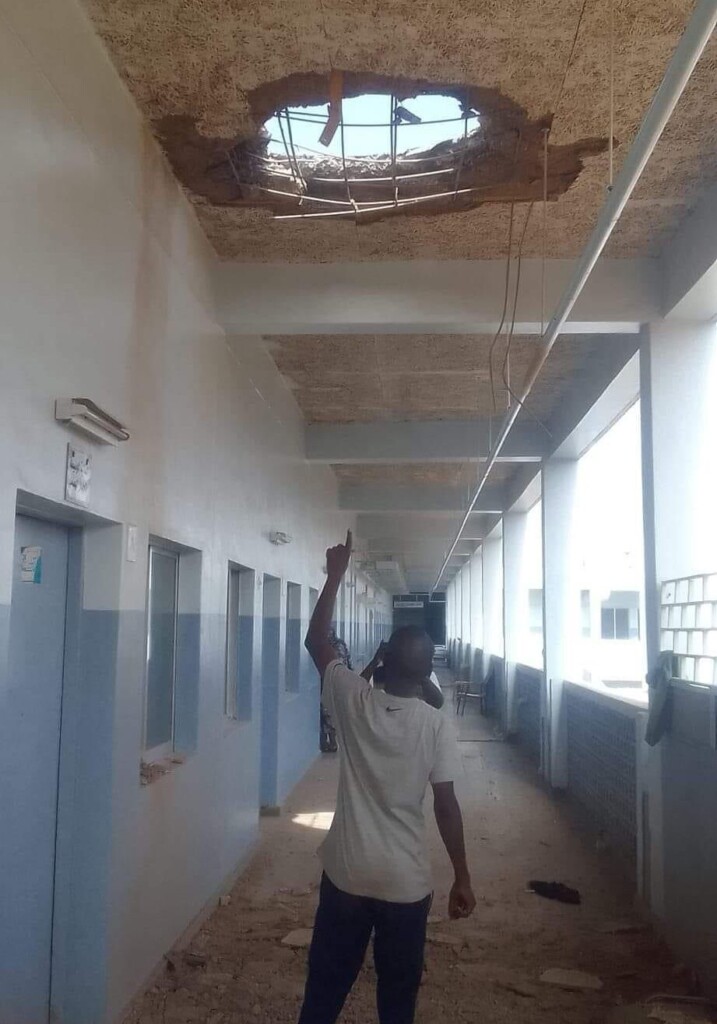 Stormed by soldiers
In North Kordofan, El Daman Hospital in state capital El Obeid was closed after it was stormed by army soldiers.
The doctors called on the international community "to oblige the two parties to the conflict not to harm health facilities, open safe passages for patients, and allow ambulances to pass".
They renewed their appeal to humanitarian organisations to extend a helping hand and take urgent action to help evacuate the wounded and provide intravenous solutions, blood bags, and medical supplies.
Most international humanitarian operations were halted after three aid workers of the United Nations World Food Programme (WFP) were killed in North Darfur.
The El Geneina Teaching Hospital in West Darfur and the Merowe Military Hospital and the Social Security Hospital, also in Merowe, were forced to shut down too.
Medical aid initiatives
Several civilian initiatives are emerging to deliver medical aid as people struggle to access care in hospitals.
A group of medical specialists in the field of children's medical care, family care, kidney care, gynaecology, and obstetrics put forward the Family Doctors Initiative in Khartoum to provide medical consultations via WhatsApp and phone. They published a list of doctors' phone numbers and consultation hours.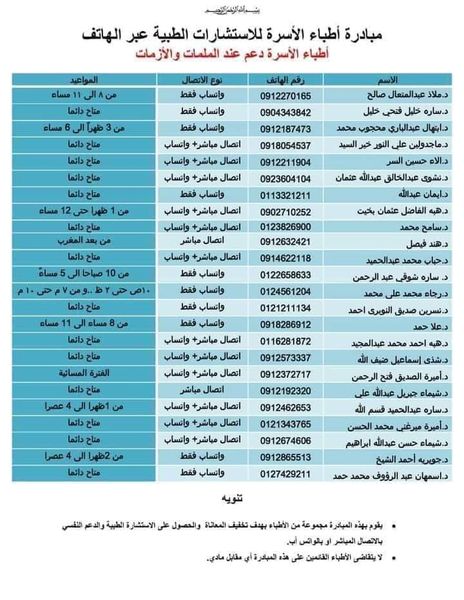 Another group of Sudanese doctors in Qatar, with various specialisations, reportedly created a hotline to provide consultations over the phone to people in Sudan who are stranded without access to healthcare.
On social media, people also share announcements of people on the ground that are organising emergency support to their neighbours by providing improvised medical assistance and ER rooms, women's shelter and support for domestic workers, and by distributing basic necessities, often risking their lives.
UNICEF Sudan warned of fake hotlines. "It has come to our attention that there are fake phone numbers on social media claiming to be UNICEF hotlines including for evacuations. Please only refer to UNICEF website and official media channels for advisories."