♦ Sudan: This week's news in brief ♦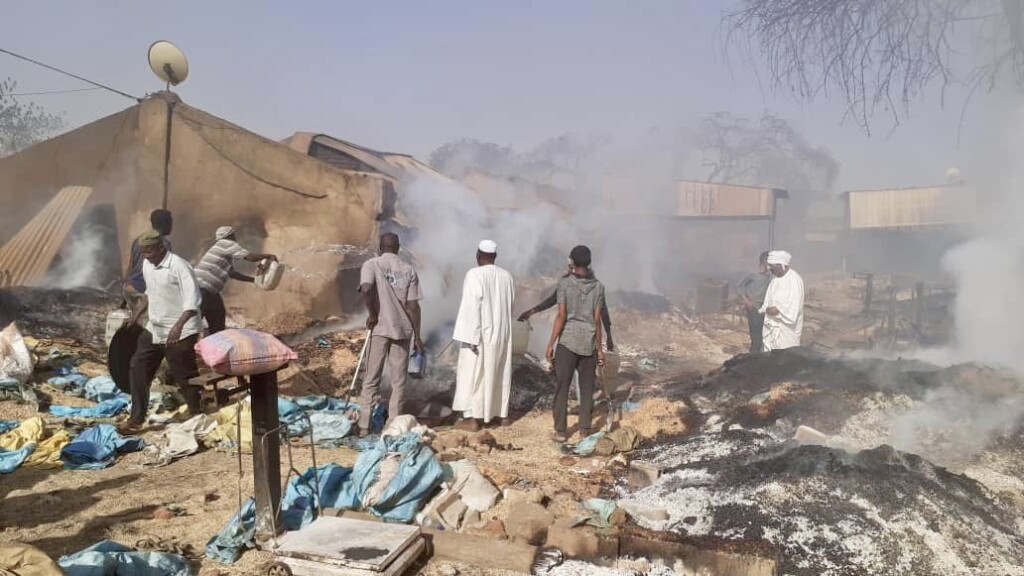 DABANGA SUDAN – June 7, 2023
---
A compact digest of the past weeks' most-read highlights, from the heart of Sudan. Subscribe to receive this digest weekly in your inbox.
---
West Darfur's El Geneina 'obliterated' by RSF-backed militias
EL GENEINA – June 5, 2023. People fleeing from El Geneina, capital of West Darfur, to Chad told Radio Dabanga that the town is "completely obliterated" by armed militiamen supported by the Rapid Support Forces (RSF) and that the security and humanitarian situation continues to deteriorate. Hundreds of people have died.
In an interview with Radio Dabanga, Journalist Enaam El Nour, who left El Geneina last Thursday, said that militias control the town whilst the state government and Sudan Armed Forces (SAF) are completely absent. The southern neighbourhoods of the city are fully deserted. Many civilians fled to neighbourhoods in the north of the town, but El Nour said that they faced repeated threats that these could be attacked too. The militias also control the road linking El Geneina and Chad.
---
Detentions and raids continue in Sudan capital
KHARTOUM / KHARTOUM NORTH / OMDURMAN – May 29, 2023. Reports about members of the Rapid Support Forces (RSF) raiding homes are increasing. An activist was abducted by the RSF in Shambat in Khartoum North on Saturday whilst a former politician was taken by the RSF on May 19.
Ali El Maghribi was seized by RSF paramilitaries while he was securing houses of people who fled the area. The resistance committee demand his immediate release. Noureldin Salaheldin, a former member of the Sudanese Congress Party, was held by the RSF on May 19. He said that he was beaten and detained in a cellar for 30 hours where between 200 and 300 other people were being held. "I never saw a worse and more horrific place than the RSF detention facility I was in," he said.
---
Fierce fighting continues in Sudan capital
KHARTOUM / OMDURMAN / SENNAR – June 7, 2023. Heavy fighting persists in the Sudanese capital Khartoum, eight weeks after the war erupted. Tutti Island is reportedly under siege and Sudan Emergency Lawyers warn of a humanitarian catastrophe. 
 
Accounts of rape increase in war-torn Sudan
KHARTOUM / KUTUM – June 7, 2023. Reports of sexual harassment and rapes in various parts of the country are increasing. "There are new reports night and day," the head of the Sudanese Combating Violence Against Women Unit said on Saturday.
 
Violations against journalists in Sudan war
KHARTOUM – June 6, 2023. The Sudanese Journalists Syndicate (SJS) documented more than 40 violations against journalists and press organisations between May 15 to 31. The violations include enforced disappearances, abductions, and raids on homes and premises.
 
North Darfur's Kutum has fallen into RSF hands
KUTUM – June 6, 2023. The town of Kutum in North Darfur has fallen under the control of the Rapid Support Forces (RSF). Dozens died and people fear a civil war.
 
Jeddah talks suspended as Sudan ceasefire falters
JEDDAH – June 1, 2023. The joint USA/Saudi Arabian facilitators of the Jeddah talks between the Sudan Armed Forces (SAF) and the paramilitary Rapid Support Forces (RSF) announced that the talks are to be suspended "as a result of repeated serious violations of the short-term ceasefire".
 
Thousands more flee to Chad after attacks in West Darfur
SILA (CHAD) – MAY 30, 2023. Groups of armed men with heavy weapons attacked the border areas of Foro Baranga, Misterei, and Jebel Darandi in West Darfur. Thousands have fled into Chad, where they tell their stories as communication blackouts persist across Darfur.
 
Dozens of babies died in Khartoum orphanage during war
KHARTOUM – May 30, 2023. Reports emerged that more than 50 babies died of starvation and dehydration in Maygoma orphanage in Khartoum since the war started in mid-April. "They needed to be fed every three hours. There was no one there," Dr Abeer Abdallah told news outlet Reuters.
 
Corpses buried by charity in Sudan as war continues
KHARTOUM / NYALA – May 29, 2023. A team of the Sudanese Red Crescent Society has managed to bury 118 corpses, mainly soldiers, that were lying on the streets of Khartoum and Nyala in South Darfur. The decomposing bodies form a health hazard but the fighting makes it hard to reach them.
 
Humanitarian situation particularly dire in Khartoum and Darfur as clashes impede aid
KHARTOUM / ZALINGEI / WAD MADANI – May 29. Sudanese and international organisations report an increasingly worsening human tragedy in Sudan as the war enters its seventh week despite a fragile ceasefire. Especially Khartoum and Darfur are facing dire situations.
 
Sudan army starts to mobilise reservists, RSF denounces the move
KHARTOUM – May 27, 2023. The Sudanese Ministry of Defence on Friday announced the mobilisation of former army officers and soldiers. The Rapid Support Forces criticised the move.
 
Communication problems in Darfur as clashes continue
EL GENEINA / ZALINGEI / NYALA – May 23, 2023. Communication is difficult in many parts of Darfur as infrastructure has been damaged in clashes. A complete communication blackout has cut West Darfur capital El Geneina off from the world for four days now. Refugees report heavy fighting.