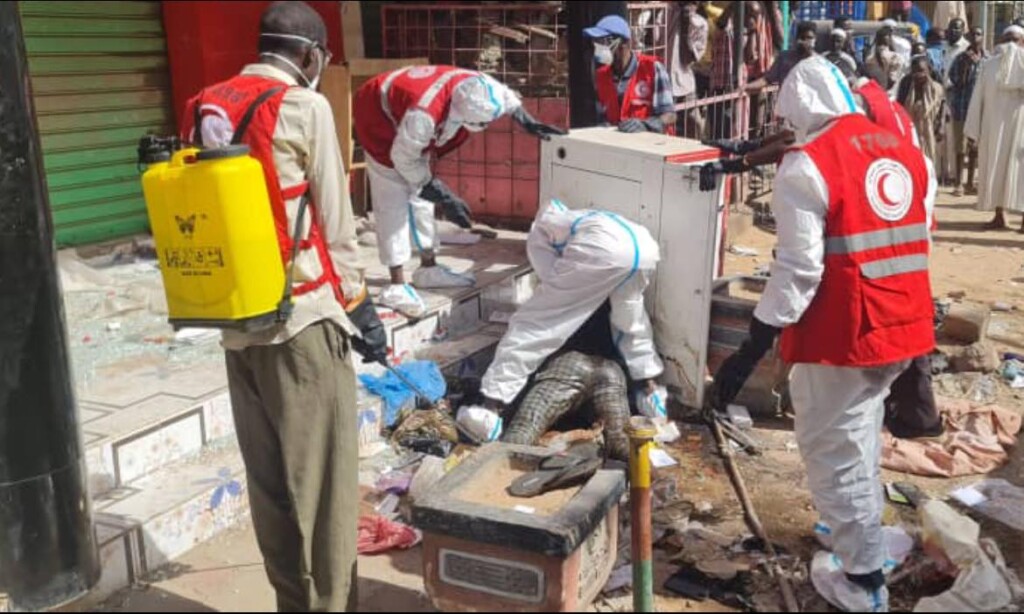 KHARTOUM / NYALA – May 29, 2023
---
A team of the Sudanese Red Crescent Society has managed to bury 118 corpses, most of them soldiers, that were lying on the streets of the Sudanese capital and Nyala in South Darfur. The decomposing bodies form a health hazard but ongoing fighting makes it hard to reach them.
Media coordinator of the Sudanese Red Crescent Haisam Ibrahim told Radio Dabanga that the mortuary team of the Sudanese Red Crescent buried 108 corpses yesterday in Khartoum and Omdurman, and another team in Nyala managed to bury 10 bodies, most of them from the Nyala market area.
The team also disinfected the places of the dead bodies.
On Thursday, concerned residents reported that there were still corpses lying around on the streets of the Grand Market. "They have been lying there for the past five days," Ahmed Haroun told Radio Dabanga at the time. "They are now emitting a strong odour that permeates the surroundings."
The society also collected bodies in El Geneina last month after intense clashes.
Ibrahim also told to Radio Dabanga that the organisation distributed humanitarian aid to 114 families in Omdurman locality, south of Muwaileh, in cooperation with the World Food Programme.
The Sudanese Doctors Union reported yesterday that the number of documented civilian casualties of the ongoing war has risen to 866 dead and 3,721 wounded.