Fierce fighting continues in Sudan capital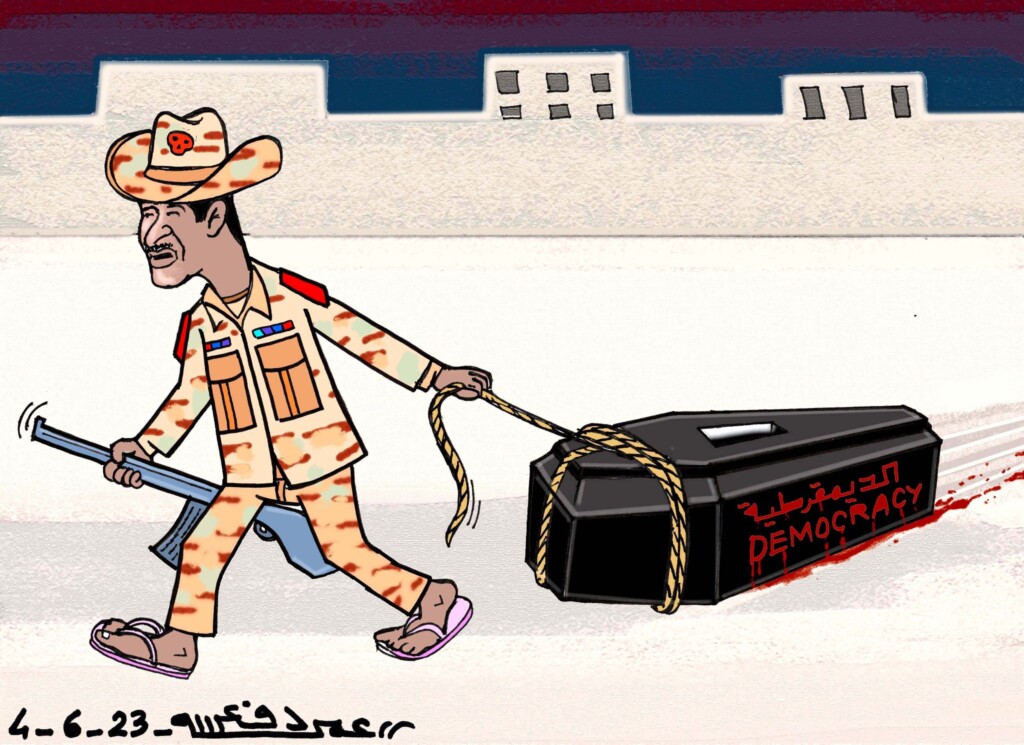 KHARTOUM / OMDURMAN / SENNAR –
---
Heavy fighting persists in the Sudanese capital Khartoum, eight weeks since the eruption of the war. Tutti Island is reportedly under siege and Sudan Emergency Lawyers warn of a humanitarian catastrophe. The UN refugee agency (UNHCR) has expressed shock at the death of refugees.
Callers from central Khartoum told Radio Dabanga yesterday, that they have been hearing the sound of heavy weapons fire. The Resistance Committee of Imtidad Nasir neighbourhood in Khartoum posted on social media that "three people were, killed and 10 buildings destroyed by airstrikes".
Other callers from Omdurman reported to Radio Dabanga that there are loud sounds coming from the south of the town, "fighter jets are roaring all the time," they say.
El Fitihab neighbourhood was also shelled on Tuesday and there are reports of several casualties. In Karari in northern Omdurman, resistance committees stated on their Facebook page that "sounds of heavy artillery can be heard in areas around the state TV offices in Omdurman."
The State TV office is one of the hotspots of the fighting and a key point where the paramilitary Rapid Support Forces (RSF) are located.
Tutti Island under siege
In a statement on twitter yesterday, Sudan's Emergency Lawyers called on the RSF to open safety passages to Tutti Island and warned of a humanitarian crisis.
For the eighth consecutive day, the RSF have reportedly closed the two bridges that connect Tutti Island to Khartoum and Khartoum North, preventing the entry and exit of people, food supplies, and medicine. "They are shooting anyone who approaches the banks of the Nile to get off the island. A construction worker was killed," they say.
"They prevented people from burying bodies in the cemetery of Hillat Hamed which forced them to use the island instead. The RSF did not allow critically ill patients and emergency cases to cross the bridges. The humanitarian situation is worsening rapidly, pharmacies have run out of medicine, and there is a lack of food supplies."
Refugees
UN High Commissioner of Refugees Filippo Grandi expressed his deep sadness in a tweet yesterday, at the death of refugees in the country, "I am shocked and saddened by reports, that at least ten refugees living in Sudan have died, in an attack in Khartoum."
He added that the UNHCR is trying to reach and provide support to survivors but, "All people are in danger in Sudan, and guns must be silenced, if lives are to be saved and aid delivered."
On Tuesday, the RSF accused the army of bombing a housing centre for Congolese refugees, killing 25 of them. The RSF also tweeted a video, purported to be from the attack area.
Displacement
According to the latest report published today, by the Displacement Tracking Matrix (DTM Sudan), the total number of displaced people in Sennar is 120,725.
Abdelrazeg Abakar from Mayo, a poor neighbourhood in Khartoum, arrived in Sennar last week.
"We left Khartoum because of the intensifying clashes and increasing killings of people," he told Radio Dabanga on Tuesday. "We are currently staying in a school building and sleeping on the floor, with no medical care available for sick people. I just want a mattress to sleep on and a toilet to use," he said.