♦ Sudan: This week's news in brief ♦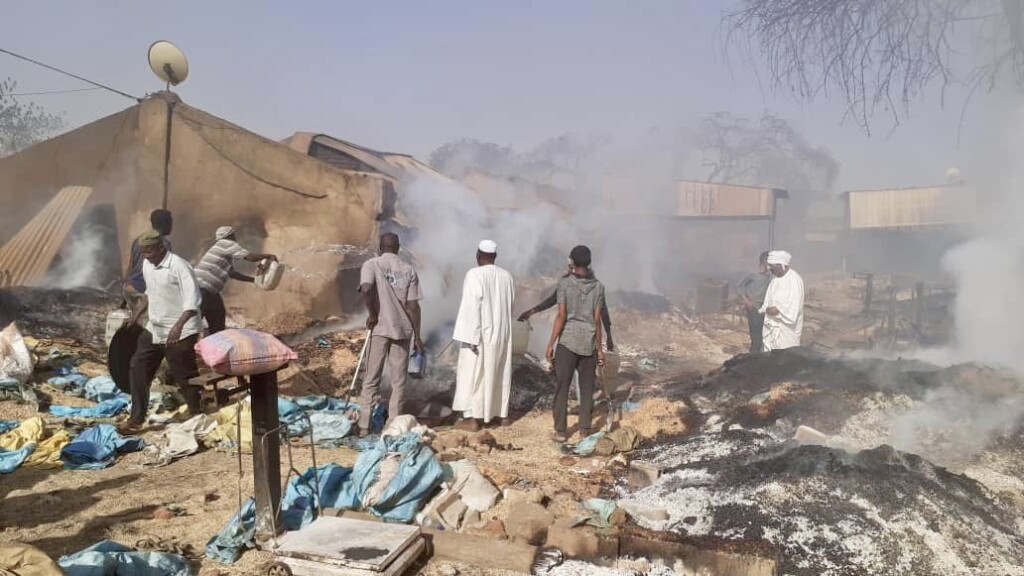 DABANGA SUDAN – May 1, 2023
---
A compact digest of the past week's most-read highlights, from the heart of Sudan. Subscribe to receive this digest weekly in your inbox.
---
Nearly 200 dead in West Darfur violence: situation 'extremely dangerous'
EL GENEINA – MAY 1, 2023. Ibrahim Ali Hussein, Sheikh of the Kerending camp for the displaced in El Geneina in West Darfur, told Radio Dabanga that at least 180 people have been killed in attacks on El Geneina last week. The situation is described as extremely dangerous, and many have already fled to Chad.
A local doctor's association estimated the number of dead at 191. Local residents reported that big clashes seemed to have stopped in the city, but looting, killings, and other lawlessness is continuing. There are no health adequate healthcare facilities to tend to the wounded. There are also various reports that civilians are being armed to counter the attacks.
---
Attacks on prisons in Sudanese capital free thousands of inmates
KHARTOUM – April 25, 2023. Thousands of prisoners in the Sudanese capital were freed after men wearing Rapid Support Forces (RSF) uniforms launched attacks on several prisons. Among the freed prisoners is activist Mohamed Adam 'Tupac', who was held in El Huda Prison in Omdurman.
In a statement on Saturday, Army Commander Abdelfattah El Burhan accused the RSF of storming the El Huda Prison and killing its guards. "The release of the inmates poses a grave security threat and illustrates the state of indiscipline the rebelling [RSF] forces have reached," he said. The commander of the RSF, Mohamed 'Hemedti' Dagalo, was quick to confirm that his forces did not attack the prisons.
---
All but one hospital in Sudan's battle zones closed or operating on 'very limited capacity'
KHARTOUM – May 1, 2023. The humanitarian situation in Sudan is worsening by the day as fierce fighting has flared up again and more health facilities have collapsed. According to the Sudanese Doctors' Union, at least 70 per cent of the hospitals in and near battlegrounds are out of service.

Former PM: 'Sudan conflict could become nightmare for the world'
NAIROBI / KHARTOUM – April 30, 2023. Sudan's former Prime Minister Abdallah Hamdok warned that the ongoing Sudanese Armed Forces (SAF) and Rapid Support Forces (RSF) clashes could potentially spiral into becoming a "nightmare for the world" if it is not stopped as soon as possible.

Sudan: At least 538 civilians dead, 4.6k injured as SAF-RSF clashes rage
KHARTOUM / OMDURMAN – April 30, 2023. Clashes between the Sudanese Armed Forces (SAF) and Rapid Support Forces (RSF) have now entered their third week, leaving at least 538 civilians dead and 4,599 injured according to figures from the Sudanese Ministry of Health. The most recently agreed upon SAF-RSF 72-hour armistice has not held.

Sudanese army confirms Al Bashir being treated at military hospital
KHARTOUM – April 29, 2023. Former President Omar Al Bashir and other officials from his regime are being held under police guard at a military hospital, the Sudanese army announced on Thursday. The announcement followed reports about several prominent Islamists escaping from Kober Prison in Khartoum North.

Situation in West Darfur capital 'catastrophic' as attacks continue, more flee to Chad
EL GENEINA – April 28, 2023. Violence continued to ravage El Geneina in West Darfur on Thursday. Tribal attacks on various parts of the city have left at least 90 people dead. Again, thousands of people fled to neighbouring Chad.

Refugees from Sudan face dire conditions at Egypt's Argeen crossing
ARGEEN – April 27, 2023. As the political and military situation in Sudan continues to deteriorate, thousands of refugees are attempting to flee to neighbouring countries. One of the primary routes is through the Argeen land crossing into Egypt. However, the process has proven to be extremely difficult, with reports of long waits and no access to basic amenities.

Sudan: Prominent Islamist hardliners escape Kober Prison
KHARTOUM – April 26, 2023. Ahmed Harun, a former official in the ousted regime of Omar Al Bashir, reported that he has been able to leave Kober Prison in Khartoum North, together with a number of other Islamist hardliners, including Ali Osman Taha, Awad El Jaz, and Nafi Ali Nafi.

Sudan humanitarian situation extremely dire
OMDURMAN / KHARTOUM – April 25, 2023. People living in the densely populated areas of Ombadda, El Salha, and El Shagla, and many other neighbourhoods in Omdurman are suffering from extremely dire humanitarian conditions because of the continuing battles between the Sudan Armed Forces (SAF) and the Rapid Support Forces (RSF).

Darfur update: clashes in El Geneina, extended truce in El Fasher, and popular initiatives in Nyala
EL GENEINA / EL FASHER / NYALA – April 25, 2023. Fierce clashes between the army and the Rapid Support Forces (RSF) renewed in El Geneina, capital of West Darfur. In North Darfur, army and RSF commanders agreed to extend an initial three-day civilian-brokered ceasefire in state capital El Fasher. In Nyala, civil initiatives have also led to relative calm.

Chad fears rising tribal tensions if RSF wins, as up to 20,000 Sudanese refugees crossed its border
KHARTOUM / N'DJAMENA – April 24, 2023. The clashes in Sudan are worrying its neighbour, Chad. The two countries share a complicated past and leaders fear rising ethnic tensions as the Rapid Support Forces (RSF) commander has important ties to Chadian Arab tribesmen. As many as 20,000 people from Darfur have fled to neighbouring Chad in the past week.