'Unprecedented pace' of fighting in Sudan's Omdurman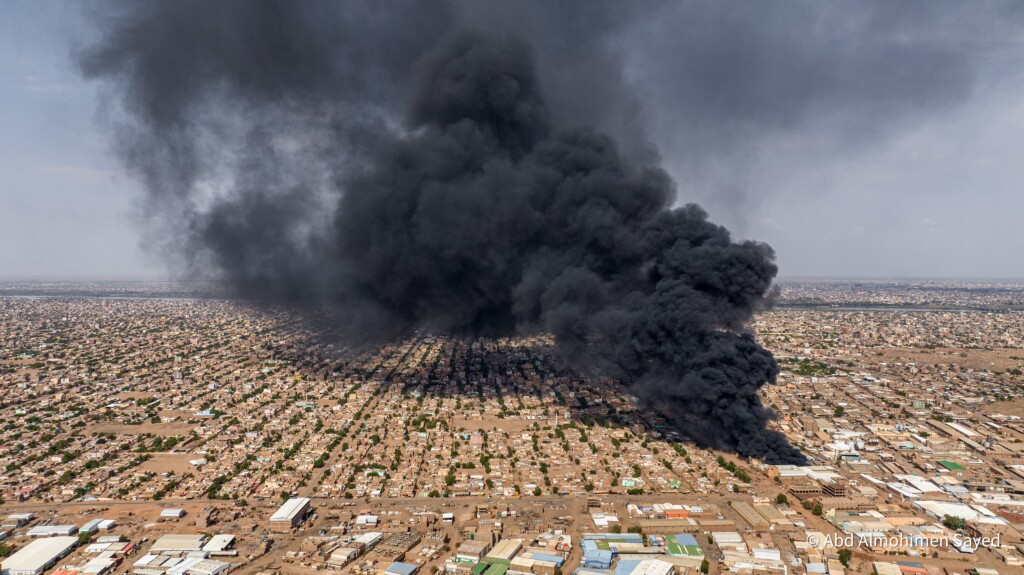 KHARTOUM – July 4, 2023
---
Eyewitnesses report that the pace of fighting in Omdurman between the Sudan Armed Forces (SAF) and the Rapid Support Forces (RSF), especially in the El Sawrat, Ombadda, and Wad El Bashir neighbourhoods has "escalated in an unprecedented manner" since Sunday. Air raids also took place in Khartoum yesterday morning. There are reports of ethnic targeting in the capital.
Heavy fighting has been reported in Omdurman since dawn today, after two days of intensified clashes. Fierce clashes have been taking place near Omdurman's park and market and in the industrial area.
The fighting in Omdurman's industrial area caused a large fire in a plastic factory yesterday, with people warning that the smoke is posing a public health risk to civilians trapped in their houses.
Some news outlets and social media users report that the Rapid Support Forces (RSF) are targeting Omdurman's military hospital, where ousted dictator Omar Al Bashir and his aides are reportedly located.
A Sudanese army officer boasted on social media that Omdurman will be "free of [RSF] rebellion" within 72 hours.
Heavy air bombardment in Omdurman was also reported on Sunday.
Residents of the city told independent journalist Abdallah Hussein this morning that they are terrified of the intensity of the ongoing shelling.
Khartoum
Next to bombardments in Omdurman, Sudanese Air Force planes flew frequently over Khartoum and Khartoum North (Khartoum Bahri) yesterday morning.
Bashir El Sadig told Radio Dabanga that the army continues to use its air power while the RSF use their ground-based anti-aircraft arsenal.
Shells landed in the vicinity of the General Command in central Khartoum, and in Burri and Garden City in the eastern part of the city, according to the witnesses.
Shells also rained on El Sha'abiya and Shambat in Khartoum North as aerial bombardments targeted an RSF camp in Shambat this morning.
Journalist and editor-in-chief of El Dawahi newspaper, Saleh Abdallah, told Radio Dabanga that warplanes have been "flying heavily" over the capital throughout the day whilst the RSF launched their anti-aircraft missiles.
Food prices have risen significantly and there is nearly no movement of supplies between Khartoum, Khartoum North, and Omdurman.
Targeting Nuba
Reports are spreading on social media that the Sudanese army abducted a girl from her home in Omdurman in June, after raiding and looting the house. "Mimi is from the Nuba Mountains and comes from a Christian family. Until now, her whereabouts are unknown."
Several social media users pointed to the history of targeting Nuba and Fur people by northern Sudanese, including the army command.
Some say that the army has a strategy to get marginalised Sudanese groups to support them against the RSF. "We know however, that the Sudan Armed Forces (SAF) has always oppressed the Darfuri, Nuba, and other Africans in Sudan," a user wrote.
"The army's disregard of what is happening in Darfur and El Geneina now is clear racism," another user said.
Army soldiers in Khartoum reportedly also target young Misseriya tribesmen as they consider them supporters of the RSF.