Sudan's El Burhan and Ukraine's Zelensky hold 'unscheduled meeting' during Irish pitstop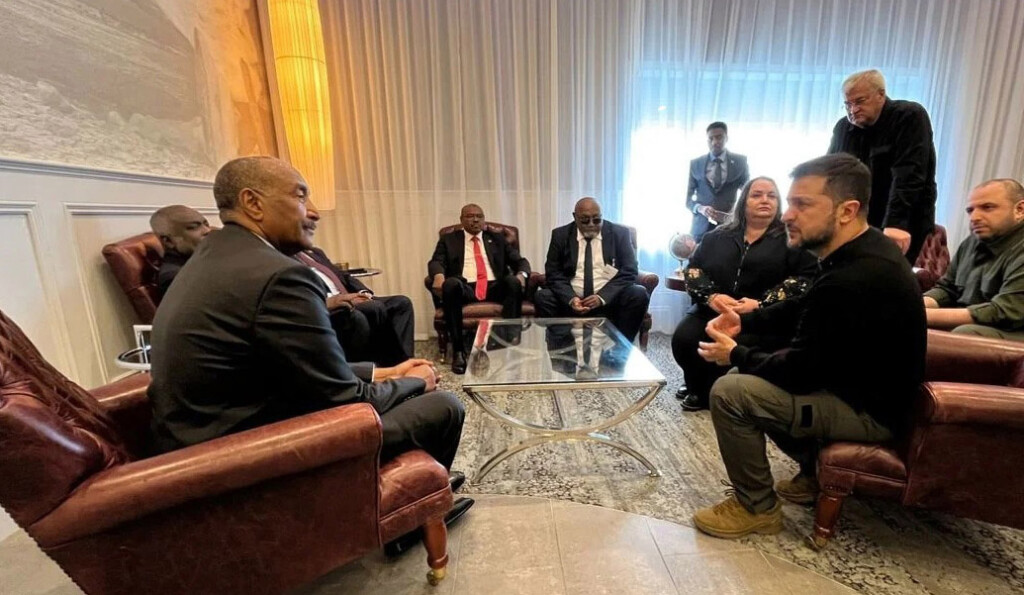 Lt Gen Abdelfattah El Burhan, Chairman of Sudan's Sovereignty Council and commander-in-chief of the Sudan Armed Forces (SAF), held an "unscheduled meeting" with Ukraine's President, Volodymyr Zelensky, during a refuelling stop at Shannon Airport on Ireland's west coast yesterday.
The Sudanese and Ukrainian leaders were en route from New York where they, along with other world leaders, addressed the 78th Session of the United Nations General Assembly. President Zelensky reached Shannon via Ottawa, where he addressed the Canadian Parliament on Thursday. Shannon Airport (Irish: Aerfort na Sionainne) in County Clare, Ireland, is a popular refuelling stop for transatlantic flights into and out of Europe and Africa.
Commenting on X (formerly Twitter), Ukraine's President Zelensky confirmed the unscheduled meeting: "I am grateful for Sudan's consistent support of Ukraine's sovereignty and territorial integrity," President Zelenskiy said.
While not mentioning any groups by name, Zelenskiy says that he and El Burhan "discussed common security challenges, namely the activities of illegal armed groups financed by Russia." This is a clear allusion to the Wagner mercenary group, that is widely suspected of involvement with assisting Sudan's paramilitary Rapid Support Forces (RSF) in its ongoing war against the Sudan Armed Forces (SAF).
In his social media post, Zelenskiy says he invited El Burhan to support the Grain From Ukraine* initiative and take part in this year's summit. We considered possible platforms for intensifying cooperation between Ukraine and African countries," he concludes.
Ukraine grain exports
As of June 2023, six vessels have already delivered more than 170,000 tonnes of grain from Ukrainian ports to Somalia, Ethiopia, Kenya, and Yemen, according to Ukraine's Ministry of Foreign Affairs.
In remarks at the UN on Wednesday, Rosemary DiCarlo, UN Under-Secretary-General for Political and Peacebuilding Affairs, warned of imminent famine in Sudan.
After five months of fierce fighting between the Sudan Armed Forces and the Rapid Support Forces, more than six million Sudanese are one step away from famine, DiCarlo warned. "These numbers will keep growing, as long as the guns keep talking."
Russia has been blocking Ukraine's grain exports – a major economic engine of the country – as part of its war strategy. While exports ground to a halt at the beginning of the Russian invasion, Ukrainian grain is now again reaching the world market via Danube and Black Sea ports.
Sudan relations with Russia
Sudan was one of 58 countries to abstain from voting in favour of United Nations General Assembly Resolution ES-11/3 in April 2022 condemning Russia's invasion of Ukraine, and the government of Sudan has maintained close ties with Russia. In June this year, Malik Agar, the deputy chairman of Sudan's Sovereignty Council, visited Russia along with the undersecretary of the Ministry of Foreign Affairs and other officials. Agar's delegation held talks with Russian Foreign Affairs Minister Sergey Lavrov and the Russian envoy to Africa and the Middle East, Deputy Foreign Minister Mikhail Bogdanov, during which Lavrov expressed the Russian Federation's solidarity with the Sudanese government and people, as well as their support for Sudan's "existing legitimate institutions".
In 2020, Russia signed an agreement with Sudan to establish a naval base in Port Sudan for at least 25 years, which would allow Russia to keep up to four navy ships in the Red Sea, including nuclear powered ones.
In 2019, Sudan became the second-largest purchaser of Russian arms in Africa after Algeria, with half of Sudan's total arms acquisitions sourced from Russia.
Former president Omar Al Bashir approved entry of a Russian gold mining company into the country and was negotiating construction of a Russian oil refinery, as well as a Russian naval base, when he was overthrown.
Mercenaries of the Wagner Group may have been involved in repressive measures to undermine the popular revolt against Al Bashir and his regime.
---
* Grain From Ukraine is a humanitarian food programme that was launched by Zelensky in November 2022 during the inaugural International Summit on Food Security in Kyiv.
Under this Initiative Ukraine, partner countries and private sector donors will deliver Ukrainian grain to countries in Africa and Asia that are facing malnutrition and extreme hunger problems. The goal is to provide grain to at least 5 million people by the end of this spring. The Initiative should contribute to overcoming the humanitarian and economic consequences of the global food crisis caused by the Russian Federation's war of aggression against Ukraine.
Austria, Belgium, Canada, Croatia, Czech Republic, Denmark, Estonia, the European Union, Finland, France, Germany, Hungary, Italy, Japan, Korea, Latvia, Lithuania, the Netherlands, Norway, Poland, Qatar, Slovenia, Spain, Sweden, Switzerland, the United Kingdom, the United States have already announced their pledges for about $200 million to support this humanitarian programme. The goal is to raise up to $1 billion and to make an important contribution in meeting urgent humanitarian needs of countries that are currently on the brink of starvation. (Source: Ukraine Ministry of Foreign Affairs)