Sudan warring parties exchange accusations over El Jeili oil refinery 'blast'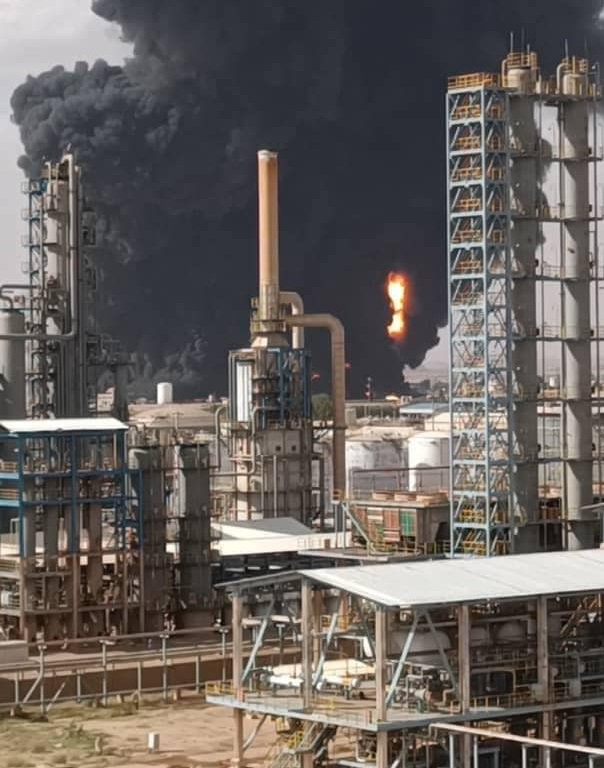 The Rapid Support Forces (RSF) accused the Sudanese air force of bombing the El Jeili oil refinery north of Khartoum yesterday. The Sudan Armed Forces (SAF) contradicted the statement and said that fire broke out after an RSF fuel tanker exploded at the refinery.
In a statement yesterday, the RSF described the airstrike on the El Jeili refinery, about 70 kilometres north of Khartoum, as "a war crime". It was "a desperate attempt to destroy what remains of the Sudanese people's resources and infrastructure in the country".
According to the SAF, however, "a fuel tanker belonging to the militia exploded in the Khartoum refinery of El Jeili. "The tanker was brought in to take fuel without abiding by the safety measures taken at such sensitive facilities, and led to a fire at the Nile Company offices and put the refinery and those in it at risk."
The SAF "holds the rebel and terrorist RSF responsible for the destruction that can result from such barbaric behaviour which puts the lives of those in the area and around the vital facility at grave risk and costs the country its most important national assest which belongs to the people of Sudan."
The army statement noted that "the militia occupied the refinery since the start of its doomed rebellion, still stations its forces inside it, and has been forcefully taking fuel in this manner. It has also recently occupied the Balila oilfield [in West Kordofan] and it is expected that it will carry out the same irresponsible pattern destructive to other oil facilities in the country".
Radio Dabanga reported yesterday that the RSF attacked on two oilfields in East Darfur on Sunday. They reportedly secured the Shag Omar oilfield in Abu Karinka. It is not clear whether they were able to take the Zarga Um Hadid oilfield in Adila under their control.