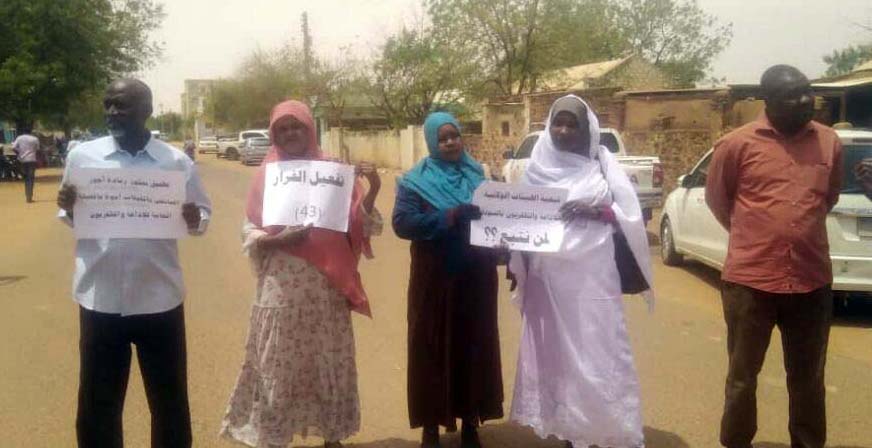 ---
Workers at Sudan's state radio and television corporations entered into an indefinite strike today, after their scheduled suspension of work for a period of two weeks, announced countrywide by the Committee for the Demands of Radio and Television Workers in Sudan, who demand that the state-controlled news organisations be brought under the control of National Radio and Television Corporation instead of being subject to state governments. They have also presented a list of demands including a new uniform salary structure, harmonising working conditions at all agencies, dealing with job promotions, and improving the work environment for media workers.
The employees of the Radio and Television Authority in Kadugli affirmed their support of the strike option, calling it "one of the legitimate means to claim the rights that were lost for 19 years".
Ismail Bakhit, a member of the Claims Committee, expressed disappointment among the workers of failure of a number of state bodies to respond.
The workers expressed their concern that the demands would not find an urgent response from the competent authorities. At the same time, they sent messages to the state and federal governments about the need to find radical solutions to the problems of the workers in the agencies and to appreciate the growing roles at a time when the country needs media agencies that play their role in the issues that occupy the Sudanese public opinion.
Muhammad Adam Ibrahim, a member of the five-member committee delegated by the employees of the state broadcasting and television bodies, confirmed that the workers will adhere to the strike option to put pressure on the competent authorities to address the workers' issues.
Mohamed Adam told Radio Dabanga that 70 per cent of workers answered the call to the strike, and warned of the consequences of "attempts to thwart the strike by some influential people in some states".
He added that the strike is legal and came as a last resort after all other attempts have been exhausted.
This represents and escalation in previous strike action called by the committee. In late March, she committee said that stoppage will continue on Mondays, Tuesdays, and Wednesdays, retaining Thursday as a working day. They warn that "the situation is likely to escalate further if their demands are not met, and call for "the full implementation of Resolution 43 of 1994" according to which press institutions in the states were established.