Solidarity campaign for Sudanese artists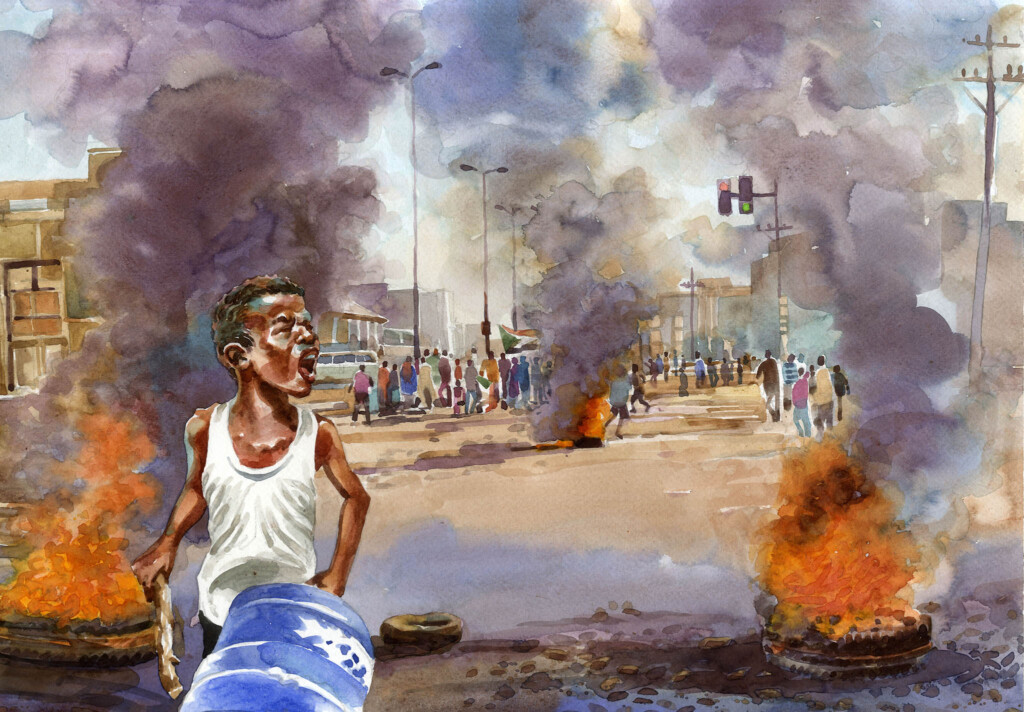 JOHANNESBURG / KHARTOUM – July 10, 2023
---
Many Sudanese lost their livelihoods when war broke out on April 2015, including Sudan's artists, many of whom were exploring their newfound political and artistic liberty since the fall of the Al Bashir regime. Often forced to flee with nothing but the clothes they wore, many struggle to make ends meet. Curators and other creatives have banded together to start a crowdfunding campaign.
Curator Rahiem Shadad is among the organisers. He founded the Khartoum-based Downtown Gallery in 2019, the year the regime of dictator Omar Al Bashir was overthrown. "We formed to display the revolution's art."
The regime was notorious for its repression, including of artists and musicians. "Art was one of the casualties [of this regime] – who has the time for 'silly things' like creative expression and self-actualization when you're worried about your next meal?," someone is quoted saying in Sara El Hassan in the article "How Sudanese Art Is Fueling the Revolution".
During the revolution, murals and art pieces popped up around Sudan and online. Art became an important instrument to spread political messages and demand democracy and better living conditions. "People expressed their politics with their brushes," Shadad told The Christian Science Monitor.
Since the revolution, "many of our artists have been able to completely devote their lives to their art" for the first time, Shadad explained.
His Downtown Gallery gallery space was a success. This year, the gallery worked with over 60 Sudanese artists, both established and up-and-coming. In early April, Downtown Gallery curated a collection of Sudanese art for an exhibition that would tour Europe.
"Then, on the evening of April 14, Mr. Shadad's colleagues closed and locked the gallery as they would on any other day, leaving hundreds of works of art inside. But they never returned," the monitor writes.
Shadad wondered what all the artists who devoted their lives to art were going to do.
One artist, Afraa Ahmed, is mentioned as an example. She left with nothing when bombs started falling on her neighbourhood in Khartoum.
There was no time to pack a suitcase, let alone any of her paintings and ceramics that she had at home and in the city's galleries. She fled to the northern part of Sudan but cannot bear to paint and few people buy art in times like this. "We all live every day in anxiety, tension, and fear," she said.
'We all live every day in anxiety, tension, and fear'

Artist Afraa Ahmed
She is not the only one. A collective of designers, archaeologists, media managers, and curators, including Shadad, reached out to many artists to ask what they needed.
The replies were simple: food, safe drinking water, and getting family and loves ones out of the immediate fighting zones.
They started Sponsor a Sudanese Artist, a crowdfunded to collect money to help artists meet these basic needs. It is one of the many grassroots initiatives and aid projects that have sprouted in Sudan during the war.
"As Sudanese we realise our plight is not Ukraine, and it is not the Notre Dame de Paris, where an old building burns and millions of dollars come out of nowhere to restore it," Sudanese curator Azza Satti told Science Monitor from her base in Nairobi, Kenya.
"We began to see how many people had fled with just the clothes on their backs. And so we said, what can we do to help?"
Artists are not only in need of help and support, they are also providing it. In Port Sudan, a collective of artists has started organising public art projects in which people can paint and listen to music to relieve stress. Others are creating and displaying art about the war on social media.
"Throughout history, art is always this time stamp," Satti explained. "It is a way of narrating our own story."