SAF withdraws from Jeddah talks as Sudan violence continues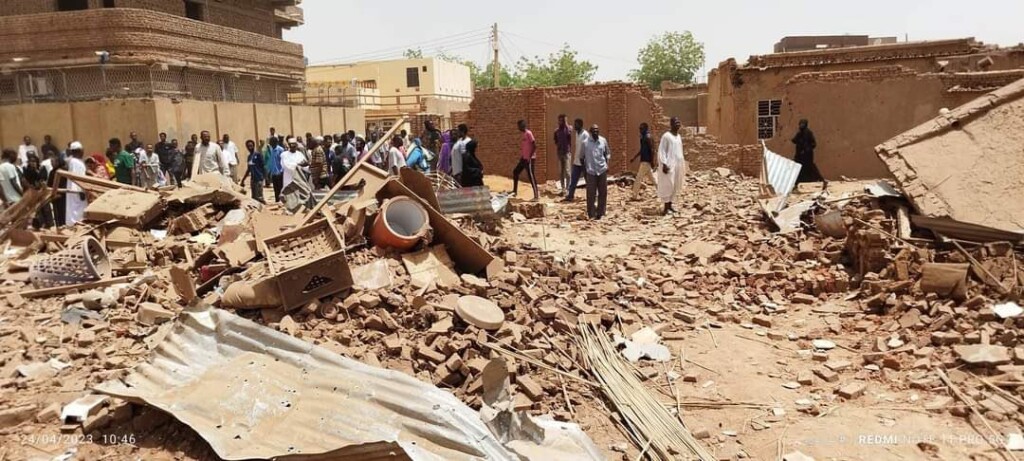 KHARTOUM / OMDURMAN / KHARTOUM NORTH / EL OBEID / JEDDAH –
---
At least 15 people were killed and 30 were injured by a bombardment at the Soug Sitta market in the Mayo neighbourhood of southern Khartoum yesterday. According to reports, three people were also killed in El Obeid in North Kordofan. The Sudanese Armed Forces (SAF) also announced their withdrawal from further participation in the US-Saudi facilitated Jeddah talks with paramilitary Rapid Support Forces (RSF) representatives due to their repeated violations, according to a SAF press statement yesterday.
Sudan, which is now in its fourth day of the supposed five-day ceasefire extension agreed to in Saudi Arabia on Monday, saw fighting between the SAF and the RSF continue across large parts of Khartoum state's three main cities, Khartoum, Omdurman, and Khartoum North (Khartoum Bahri).
Witnesses told Radio Dabanga that sporadic gunfire was heard in the Mohandessin district of Omdurman, adding that SAF warplanes continue to fly over the three cities.
On Tuesday, the second day of the extended truce, reports indicated that SAF-RSF battles intensified following the paramilitary's accusation that the SAF attacked their base in the coin minting facility in Khartoum, which they have occupied since last week.
The RSF also accused the SAF of attacking their bridgehead on the Khartoum side of the El Fitihab bridge connecting Omdurman to Khartoum. Radio Dabanga reported earlier this week that Sudan's Armed Forces closed the contested bridge from the Omdurman side on Saturday.
Jeddah Talks
Brig Gen El Taher Abu Haja, Media Advisor to the Commander-in-Chief of the Sudan Armed Forces (SAF) and President of the Sovereignty Council Lt Gen Abdelfattah El Burhan, pledged that the SAF would only return to the negotiating table if what was adhered to originally, was strictly abided by the RSF.
Abu Haja states that the paramilitary troops are "fighting civilians, violating their freedoms, seizing their homes, looting their property and practicing all kinds of terrorism".
Military analyst Dr Mohammed Bashir El Saim told Radio Dabanga in an interview yesterday that as well as the aforementioned accusations of RSF lawlessness, their lack of commitment to evacuating hospitals and other public facilities is a key driver for the SAF withdrawal.
El Saim states that the US-Saudi joint ceasefire facilitators have failed, and the absence of condemnation surrounding extrajudicial RSF crimes is "tantamount to conspiracy".
Reports suggest that the joint US-Saudi mediators are making efforts to return the SAF delegation to the negotiating table.
The RSF announced their continued adherence to the truce in a statement on Tuesday. They reiterated their commitment to US-Saudi initiative, stressing that their priorities are how to address the humanitarian crisis.
In response to the SAF accusations against the RSF, they claimed that they observed "multiple violations committed by the SAF", such as their indiscriminate "aerial bombardments".