Eastern Sudan Beja Nazirs Adarob faction 'disavow both FFC blocs'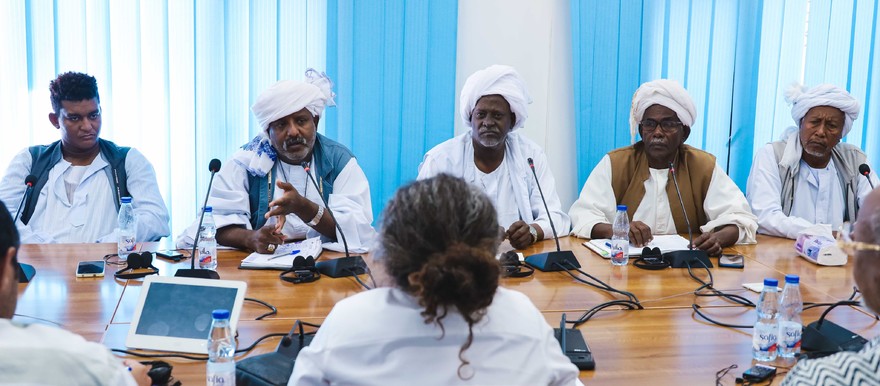 ---
The eastern Sudanese High Council of Beja Nazirs and Independent Chieftains faction led by Ibrahim Adarob announced its disavowal of any central bloc, in particular the mainstream Forces for Freedom and Change (FFC-Central Council) and the recently established FFC-Democratic Block.
In a statement on Friday, the faction's political secretary and official spokesperson Sayed Abu Amna accused "all traditional and modern national power centres and institutions of deliberately excluding the Beja people, Beja Council, and all other people in the region from all the political processes that are taking place".
Adarob's faction repeated its rejection of the Eastern Sudan Track protocol in the Juba Peace Agreement (JPA), while "the two FFC blocs both have accepted the protocol". The statement further warned of "attempts to exploit the eastern Sudanese problems in Khartoum", adding that any plans to break up the Beja Nazirs Council "will backfire on the security and stability of the country".
The High Council of Beja Nazirs and Independent Chieftains witnessed a rift last year, when a faction opposed to Hadendowa Beja Nazir and Council President Sayed Tirik, made their own plans and joined the Forces for Freedom and Change-Democratic Block (FFC-DB) in early December last year.
However, both factions have been calling for the cancellation of the Eastern Sudan Track protocol of the Juba Peace Agreement (JPA) and threatened to decide on self-determination for the region if Khartoum would not comply with their demands.
Eastern Sudan Track
Rebel leader and Sovereignty Council member El Hadi Idris, stated that not even one per cent of the Eastern Sudan Track agreement has been implemented.
Idris called on the protocol's objectors to communicate their views in the conference on governance in eastern Sudan, that will soon be organised by the AU-IGAD-UNITAMS Trilateral Mechanism.
Regarding calls to annul the Eastern Sudan Track protocol, Idris told Radio Dabanga that "this is not possible, because it is part and parcel of the JPA, and if a part of this agreement is cancelled, this means that the entire agreement is cancelled".
He stressed that the signatories to the Framework Agreement are committed to an evaluation of the protocol and any of points of contention "will be addressed through the conference."
"Many people criticise the agreement without having seen it. Others do not look at the gains but only care for the puppets," he told Radio Dabanga.
He added that the protocol "stipulates a focus on development and reconstruction of the region", saying that almost "$300 million would be allocated annually for seven years for this purpose".
Idris underpinned some of the developmental strides the protocol could make, such as combatting safe water scarcity, particularly in the three eastern Sudanese states "which need drastic improvement".