♦ Sudan: This week's news in brief ♦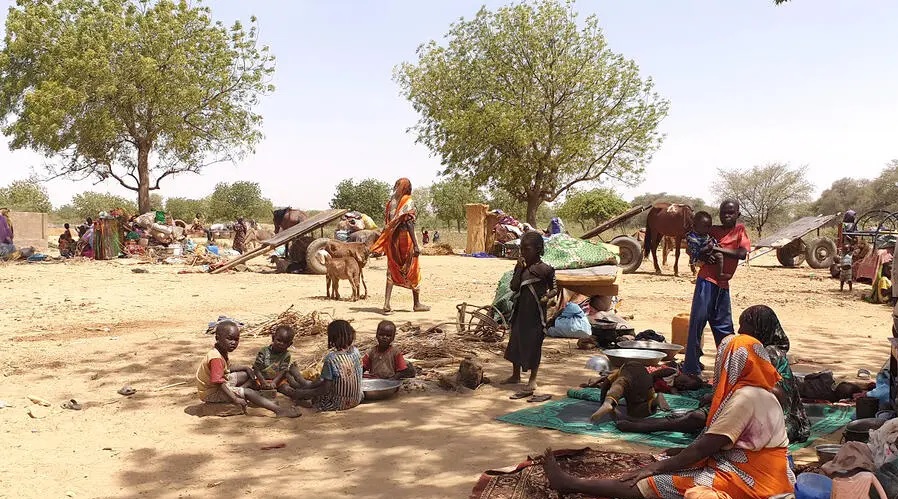 ---
A compact digest of the past weeks' most-read highlights, from the heart of Sudan. Subscribe to receive this digest weekly in your inbox.
---
Sudan lawyers call for urgent aid, accuse govt of spending money on new buildings
08/09/2023 – KHARTOUM / PORT SUDAN / ADRÉ (CHAD) As fighting continues in Khartoum and South Darfur and another 300,000 people in the country fled their homes in one week, the Sudan Democratic Lawyers Front calls for urgent humanitarian aid for the millions of displaced sleeping rough in Sudan and eastern Chad. The lawyers also accuse the authorities of spending money on the construction of new government offices and "villas" in Port Sudan.
"Thousands of people fleeing the country's holocaust suffer from a complete lack of food, while goods and relief materials are sold inside Sudan for the benefit of influential people," lawyers said. "Not only are injured and chronically ill patients suffering from the silence from the state insurance companies, but most of the medical staff still working has not received their salaries since late April, whilst the de facto government is constructing villas and a new republican palace in Port Sudan."
---
'The government has begun to act like parasitic brokers and merchants'
---
Sudan passport fees hike 'blackmail'
03/09/2023 – PORT SUDAN The increase in Sudanese passport issuance fees, now set at SDG150,000 for adults, has been widely criticised by a significant portion of the population. Sudan's Ministry of Interior Affairs announced it would resume issuing passports in nine states, after which a large influx of applicants was reported at passport issuance outlets in Port Sudan.
Economic analyst Kamal Karar told Radio Dabanga that the large increase in passport issuance fees was an attempt to "blackmail people and exploit their need for passports in order to escape the hell of war, in search of a better life". Karar stressed that the increase cannot be justified, arguing that the Sudanese government has "begun to act like parasitic brokers and merchants".
---
Sudan activist warns of 'dire consequences' of toxic gold extraction
13/09/2023 – PORT SUDAN A workshop held by Sudan's Ministry of Minerals and the Sudanese Company for Mineral Materials in Port Sudan earlier this week ignored environmental studies on health and safety, including on the use of mercury and cyanide, activist Ahmed Mokhtar told Radio Dabanga.

El Burhan visits Eritrea to discuss Sudan crisis
12/09/2023 – ASMARA The head of the Sovereignty Council and commander-in-chief of the Sudanese army, Gen Abdelfattah El Burhan. visited the Eritrean capital of Asmara, his fourth visit since leaving the General Command in Khartoum.

REDRESS: Mounting evidence of war crimes in Sudan
12/09/2023 – LONDON The UK-based REDRESS and SOAS Centre for Human Rights Law reported that "a large body of credible (and evolving) evidence" is emerging implicating both sides of the war in Sudan "in the commission of serious human rights abuses and possible war crimes."

Zain restores mobile and internet services in Darfur cities as shelling persists
11/09/2023 – NYALA Services of mobile and internet communications provider Zain were restored in the South Darfur capital after more than a month of interruption amid the ongoing hostilities between the Sudan Armed Forces (SAF) and the Rapid Support Forces (RSF). The communications network has also been restored in the North Darfur capital El Fasher after more than three months.

Dollar exchange rates increase in Sudan
08/09/2023 KHARTOUM / PORT SUDAN The exchange rate of the US dollar against the Sudanese pound recorded a significant increase following a rise in the demand, whilst a sharp decrease in exports has further led to a shortage of hard currencies.

Renewed RSF violence intensifies humanitarian crisis across Sudan's capital
07/09/2023 – KHARTOUM / OMDURMAN / EL GEDAREF Humanitarian conditions in the capital are becoming 'exceedingly complex' as supply shortages and insecurity plague residents of Khartoum who are unable to leave as residents report relentless artillery and aerial bombardments in the capital and its sister cities whilst RSF launched another attack on El Shajara Armoured Corps.

UN adviser on genocide: 'Sudan conflict has strong identity-based components'
06/09/2023 – NEW YORK The United Nations Special Adviser on the Prevention of Genocide, Alice Wairimu Nderitu, has expressed her concern at "the persistent and ongoing levels of identity-based violence in a number of states and regions in Sudan," calling for "urgent action to halt the increasing risk of the spectre of genocide and related atrocity crimes".

Khartoum 'one big prison for civilians', people 'tortured to death' by Sudan Military Intelligence
04/09/2023 – KHARTOUM / KADUGLI The Emergency Lawyers documented a record number of detention centres inside wider Khartoum, mainly from the RSF, and lamented the "horrific escalation" of arbitrary arrests and torture. Some detainees even died as a result of poor conditions and violations. In South Kordofan, three were allegedly tortured to death by Military Intelligence.

50K+ displaced – families endure 'near-siege conditions' in South Kordofan
03/09/2023 – KADUGLI / KHARTOUM More than 50,000 individuals have been forcibly displaced from Kadugli, the capital of South Kordofan, Save The Children reported. Children and families residing in what are described as "near-siege conditions" have exhausted emergency food provisions and are encountering restricted access to both medical services and major roadways.

Large parts of Central Darfur capital resemble a 'ghost town'
01/09/2023 – ZALINGEI Life in Zalingei, capital of Central Darfur, has become extremely difficult as battles between the RSF and the SAF continue. Thousands have fled the besieged city. The RSF and allied militant tribesmen are assaulting people on a large scale in the state capital and surroundings.