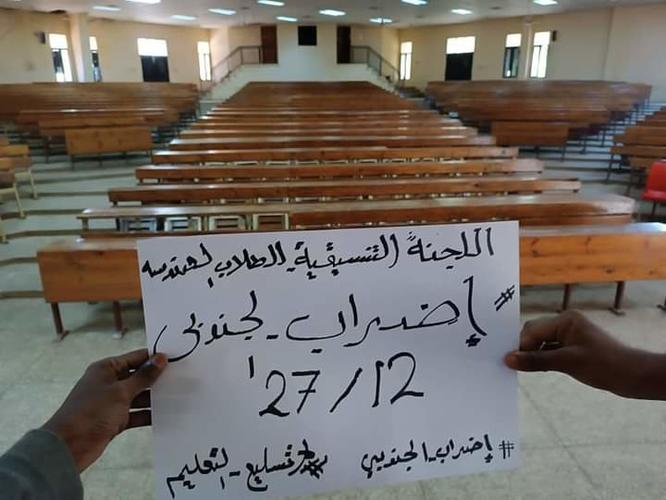 Teachers at state schools and students at higher education institutions in Sudan have begun to strike to put further pressure on the government to increase their wages and improve tuition fees.
Duriya Babiker, a member of the Teachers' Strike Committee, told Radio Dabanga that teachers all over the country responded to their calls to close schools from Tuesday to Thursday.
She condemned the statement of the Governor of Khartoum, who called the strike unacceptable. "The governor should stand with the teachers, who are demanding improved salaries and school environments, a decrease in the huge number of students in classrooms, and better maintenance of school buildings, instead of blaming them."
Staff members of Sudanese research centres organised a protest vigil in front of the Ministry of Higher Education on Tuesday to demand an increase in wages and a reform of salary structures. They demanded that the new salary structure emulates university lecturers and other employees working for the Ministry.
Yesterday, the Sudan University of Science and Technology announced the suspension of studies in the Southern Campus indefinitely. The decision was taken after students of the Faculty of Engineering started a strike that day to protest significant increases in tuition fees.
The Sudanese Teachers Committee called the appointment of an undersecretary for the Ministry of Education "a step in the right direction" in a statement yesterday. The appointment of an undersecretary will improve the situation, as "a single person doing the work of three senior positions in the ministry causes roles to overlap," according to the committee.
The acting Minister of Education is supposed to stand with the teachers' demands and defend them, and not threaten to transfer or dismiss them, said Babiker on December 18.
Earlier this month, the Service Affairs Bureau announced an increase in teachers' wages by six per cent. The authorities have previously used bonus payments "as a means to placate teachers," according to a Sudanese Teachers' Committee statement on October 15.
The teachers, who demonstrated for better salaries outside the Council of Minister's headquarters in Khartoum the day after the statement, said this payment barely covered the rise of the cost of living in Sudan.