Sudan war: Strategic Khartoum bridge destroyed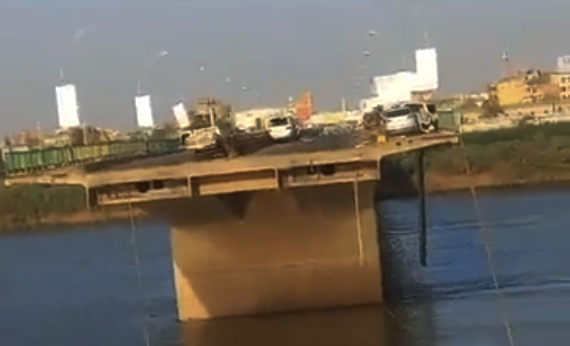 The Shambat Bridge in Sudan's capital city, Khartoum, which connects Omdurman to Khartoum North (Bahri) and crosses the White Nile, collapsed yesterday. Statements released by both the paramilitary Rapid Support Forces (RSF) and the Sudan Armed Forces (SAF) confirmed the collapse, with each group blaming the opposing party for the destruction.
A massive explosion resulted in the collapse of the Shambat Bridge yesterday morning. According to the Sudan War Monitor, the Shambat Bridge is "the only bridge controlled by the Rapid Support Forces (RSF) across the Nile, making it a crucial link to move men and materiel from Omdurman to Khartoum North and Khartoum."
The RSF is still reported to have control over the El Mek Nimr Bridge, the El Manshiya Bridge, and the Soba Bridge linking Khartoum North with Khartoum. However, the collapse means that they will "have greater difficulty moving reinforcements from one part of the capital region to another." and will have to move troops by river to Khartoum from Omdurman or vice-versa.
The SAF, led by Lt Gen Abdelfattah El Burhan, head of Sudan's Sovereignty Council and commander of the SAF, said in a statement on Saturday that "the rebel militia destroyed the Shambat Bridge early this morning…adding a new crime to their record."
In their statement, the RSF accused "the Burhan terrorist militia" of destroying the Shambat Bridge, adding that their efforts in doing so were in the hope "they could defeat our brave forces."
The destruction of the Shambat Bridge is viewed as demonstrating a significant advantage for the SAF over the RSF. One logistical difficulty that may arise as a result, could be supplying troops in Omdurman with fuel. The Sudan War Monitor argues this event may presage a major SAF offensive in either Omdurman or Bahri.
Reports suggest that the RSF controls the eastern bank of three bridges across the White Nile: the Halfaya Bridge, the El Fitihab Bridge, and the White Nile (Medical Corps) Bridge. Meanwhile, the SAF controls its western side. Construction of the bridge began in the early 1960s, following Sudan's independence.
Omdurman Clashes
As previously reported by Radio Dabanga, clashes between the RSF and the SAF earlier this week in the El Thawra and Ombadda neighbourhoods of Omdurman resulted in multiple casualties.
Eyewitness accounts told Radio Dabanga that intense bouts of fighting involving both light and heavy weaponry echoed across various parts of Omdurman.
The situation worsened as airstrikes targeted locations near the Wad El Bashir Bridge in Ombadda, shrouding the area in billowing clouds of smoke.