Sudan mil expert: 'Advances in Darfur will boost RSF leverage in Jeddah'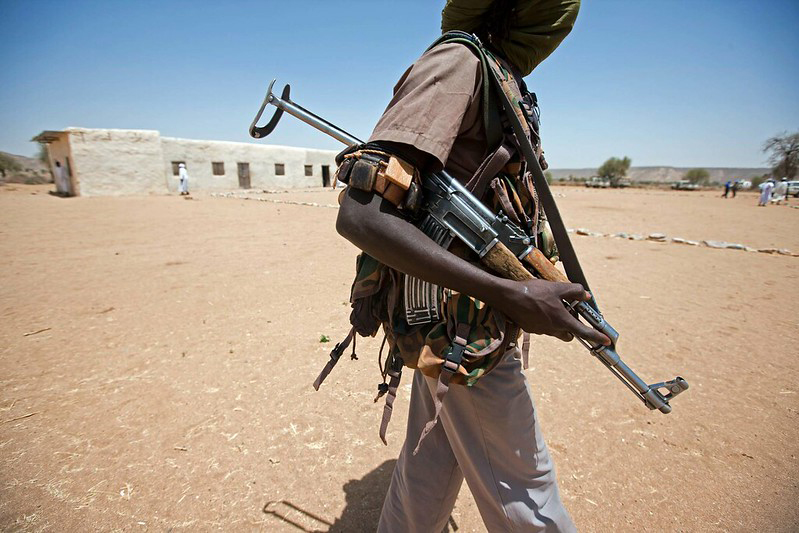 The Rapid Support Forces (RSF) has made territorial gains in North, West, and Central Darfur, escalating tensions between the paramilitary force and the Sudan Armed Forces (SAF) in light of resumed ceasefire negotiations in the Saudi coastal city of Jeddah this week.
Lt Col (Retd) Omar Arbab told Radio Dabanga that the RSF's military actions in Darfur and Kordofan aim to expand their territorial control, enhancing their negotiation leverage. He noted that the SAF "dominates all states in Sudan except Khartoum, with ongoing struggles in Darfur, while the RSF lacks territorial control."
"Military escalation at the beginning of a negotiation is a strategy used to secure more territory for a ceasefire agreement". Arbab pointed to the SAF spokesperson's statement last week, where he emphasised that resuming negotiations in Jeddah does not signify a halt in fighting.
In a statement yesterday, the Rapid Support Forces (RSF) said they took control of Jedid El Seil camp, located 10 kilometers from El Fasher, the capital of North Darfur.
The statement also condemned Wednesday's aerial bombardment in El Fasher, describing it as a "criminal act that amounts to war crimes and crimes against humanity". Radio Dabanga was unable to contact the Sudanese army spokesperson for comment.
In West Darfur, the RSF besieged the headquarters of the Sudan Armed Forces's (SAF) 15th Division in El Geneina, capital of West Darfur, "from all directions" since yesterday morning.
A field commander told Radio Dabanga from the city that the RSF gave the army a six-hour ultimatum to surrender and vacate the division. The RSF would "initiate an attack on the command if it remained unresponsive, and it urged residents to stay away from the division's perimeter".
El Geneina was in a state of panic on Tuesday, following rumours of an imminent RSF attack on the 15th Division's base in the city.
Journalist Alaaeldin Babiker, based in El Geneina, noted a significant displacement of people to nearby villages, and to Adré in Chad, "primarily from neighbourhoods near the army command, and the Ardamata area, but also from other neighbourhoods of El Geneina", out of fear of renewed violence between the SAF and the RSF.
On Tuesday, a missile landed on a house in Ardamata, killing a mother and her two daughters. More houses were damaged by shelling in the area, Babiker said.
The majority of El Geneina's residents and those in West Darfur previously fled their homes, most of them to eastern Chad, due to deadly attacks that claimed the lives of thousands.
Central Darfur
Armed militias reportedly seized control of Hasaheisa camp in Zalingei, the capital of Central Darfur, on Tuesday.
The RSF had previously laid siege to Hasaheisa camp, due to claims that SAF personnel received supplies from the camp. However, this siege was partially lifted on Tuesday as the RSF took control of the 21st Division headquarters in Zalingei.
Sheikh Abdelrazig Yousef, a community leader among the displaced in Zalingei, told Radio Dabanga that dozens at the Hasaheisa camp were killed, with 24 cases of rape reported, "along with a wave of detentions, plundering, arson, and widespread violence" on Tuesday. "There are numerous bodies scattered throughout the camp's streets and inside homes", he added.
In the wake of the attack, many residents of El Hasaheisa camp in Zalingei fled to Saraf Omra in North Darfur, some to the city of Zalingei, while others sought refuge in the nearby El Hamidiya camp. The whereabouts of several families remain unknown.
Yousef urgently called upon Maj Gen Ali Yagoub, RSF commander in Central Darfur, "to safeguard civilians from these grave violations, to apprehend the culprits and bring them to justice, and to permit displaced people to return to El Hasahisa camp for the dignified burial of the deceased".
Radio Dabanga's attempts to contact Maj Gen Yagoub or any RSF commanders in Zalingei were unsuccessful.
According to the International Organisation for Migration (IOM) latest Sudan Humanitarian Update, about 1,500 people were displaced to El Hamidiya camp "following renewed clashes between SAF and RSF in Zalingei town on 19 October".