Sudan evacuation efforts continue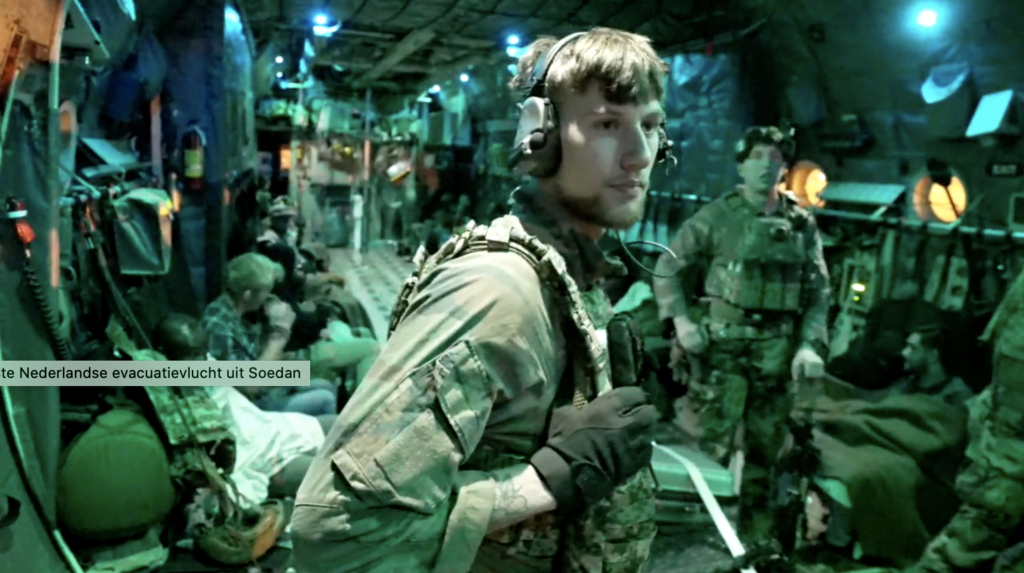 KHARTOUM – April 24, 2023
---
International evacuation efforts are continuing as countries try to evacuate their citizens from war-torn Sudan, especially from the capital Khartoum where fierce clashes have been taking place. The Dutch Ministry of Defence published footage of its evacuation efforts earlier this morning.
The first Dutch evacuation flight landed safely in Jordan this morning. Times of evacuation flights have been kept secret until the passengers have landed elsewhere to not jeopardise their safety. 32 people, including 15 Dutch nationals were evacuated with that flight.
Evacuation efforts have continued over the weekend, led by a wide array of countries including Saudi Arabia, the UK, and Greece, with the hopes that a temporary ceasefire is upheld enough to provide a safe passageway out.
The UK's armed forces airlifted British diplomats and their families from Khartoum yesterday. A French convoy was reportedly ambushed in Khartoum while trying to leave the embassy, forcing them to turn back, according to the BBC.
Yesterday evening, French air forces evacuated people to Djibouti, and earlier that day to Jordan. 73 people were on the flight to Djibouti, including Dutch humanitarian worker Arthur Molenaar and his family. They had to leave their cat and other possessions behind but explained that they were well taken care of by the French army during the risky operation.
France has now evacuated 491 people, including 196 French citizens, a diplomatic source from the French Ministry of Foreign Affairs told the BBC. Evacuation operations are still ongoing.
US diplomats were evacuated via an airborne rescue operation which airlifted fewer than 100 people with Chinook helicopters.
The German Ministry of Foreign Affairs confirmed it had evacuated 311 people, including German nationals and citizens from other countries. Other flights were planned "if the situation on the ground allows," it reported.
An aircraft with 101 people arrived in Berlin from Jordan this morning. Italy and Spain also evacuated citizens, including people from Sudan, Argentina, Colombia, Mexico, Venezuela, Ireland, Portugal, and Poland.
Canadian diplomatic staff were reportedly evacuated as well.
Stranded citizens
Many citizens from these same countries still need to be evacuated. At least 150 Dutch citizens were waiting for evacuation this morning.
The British reportedly prioritised the evacuation of diplomats from Khartoum "due to the escalating threats against diplomats".
Minutes ago, a small British military reconnaissance team reportedly landed in Port Sudan to asses potential evacuation options to bring the stranded UK citizens to safety.
No concrete decisions have been made to evacuate remaining UK citizens from Sudan but troops are currently sent to the country to gather intelligence and provide the British prime minister with an overview of options.
In an address to the British House of Commons, UK Development Minister Andrew Mitchell described the situation in Sudan as a "total and absolute nightmare of a crisis where 60 million people are already short of food and support". "It will only get worse… unless there is a ceasefire and a general lay down of their arms and troops go back to Barracks," he stated.
The British defence secretary is reportedly engaging with counterparts in Djibouti, the USA, France, and Egypt.
Turkey reportedly began evacuation efforts by road from Wad Madani in El Gezira yesterday, but its plans to evacuate people from a site in Khartoum were postponed after a nearby explosion.