RSF claims hundreds of army troops joined its ranks in Darfur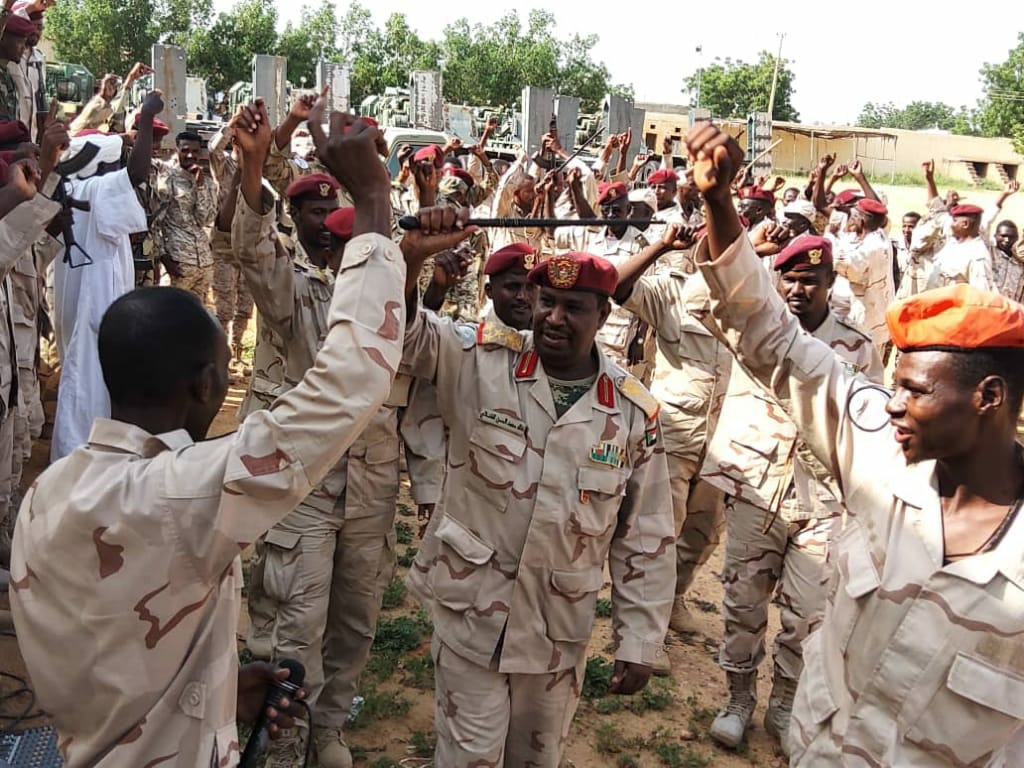 ED DAEIN – July 24, 2023
---
On Saturday, the RSF announced that an army force of 15 officers and 527 soldiers of the 20th Division in Ed Daein, capital of East Darfur, joined its ranks. The paramilitary organisation said it "warmly welcomed these honourable men".
In a statement on social media, the RSF said in that the accession came in response to a call by the East Darfur RSF commander on army soldiers to support the RSF.
"In a significant step toward halting the coup attempt orchestrated by the Sudanese Armed Forces (SAF) leadership and its backers linked to the former regime, a sizeable contingent of SAF soldiers from the 20th Ed Daein Division" has responded positively to RSF Commander-in-Chief Lt Gen Mohamed 'Hemedti' Dagalo's call, the RSF wrote on their social media.
"Their decision clearly reflects the collapsing of the SAF. The RSF warmly welcomes these honourable men, who uncovered the SAF leadership's plot to execute a coup in our country and reinstall the former regime."
The high ranks of the army largely consist of a loyal clan of Islamist supporters of ousted dictator Al Bashir. A common knowledge that RSF Commander Lt Gen Mohamed 'Hemedti' Dagalo has used to frame himself as a fighter for democracy against dictatorial Islamists (referred to as kezan* in Sudanese slang).
Given the fact that his RSF were set up by the Al Bashir regime and deployed to commit genocide in Darfur, such framing attempts have been called hypocritical by many Sudanese. Hemedti's reputation at home and abroad is "dreadful" at the moment, as the International Crisis Group (ICG) explained in their most recent analysis of the Sudan conflict.
SAF spokesperson Nabil Abdallah downplayed the importance of the fact that SAF soldiers joined the RSF. He said that the numbers are inflated and that most of the deserting officers "are those who joined the army under the framework of security arrangements, except for one officer and 28 soldiers".
Recruitment calls
"The RSF extends its heartfelt greetings to the officers and non-commissioned officers of the 20th Ed Daein Division and urges all honourable members of the SAF to align with the people's choice and join the RSF," the statement read.
Hemedti has said that the RSF does not seek to abolish, dismantle, or replace the armed forces but will work to build a single national army "that has nothing to do with politics, serves the interests of the people, and protects the country".
* Kezan, or kizan, is a pejorative nickname used by many Sudanese to refer to Islamist loyalists to the regime of Omar Al Bashir (1989-2019) and who enjoyed far-fetching privileges during his rule. The word is the plural of koz which means 'wooden or iron mug'. The nickname is based on a description the Islamic Brotherhood called themselves when the founder of the group, the Egyptian Hasan El Banna, said: "Religion is a sea, and we are the mugs that draw from it".