Rains destroy homes in northern Sudan, 'toxic floods' threaten environment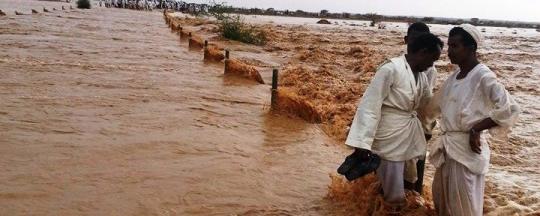 Torrential rains and ensuing floods in Berber, River Nile state, affected more than 270 homes in Nabawiya and Salama villages yesterday. People fear an environmental catastrophe because the floods spread large quantities of toxic mining waste throughout the area.
Community leader Abdelazim El Badawi told Radio Dabanga that the floods that swept through the area of Nabawiya and Salama entirely destroyed 210 houses and damaged at least 60 other homes.
"Many are stranded in the area and are in dire need of humanitarian aid," El Badawi reported. "Limited support was provided by the executive branch of Berber locality and some charity organisations, but the people in particular need tents and medicines."
El Badawi attributed the floods to the El Makilab agricultural project's canal, "which was constructed during the regime of ousted President Omar Al Bashir in the area, where four wadis meet, without considering any engineering method.
"We seldomly had rainfall, but in the past few years the rains moved north, and the water from the flooded wadis increases, in particular during heavy rainfall."
Environmental hazards
The community leader warned of an environmental catastrophe in Berber because of the presence of large quantities of toxic mining waste (called karta in Sudan) in the area.
"The floods swept away the mining waste and spread it throughout the entire area, which may lead to an environmental disaster," he said. "People here have repeatedly raised the matter to the authorities in former years, but they did not receive any response."
Activists in various parts in the country, in particular in South Kordofan, West Darfur, northern Sudan and Red Sea state have been protesting the use of cyanide and mercury in traditional gold mining practices for years.
The Red Sea state Demanding Bodies Association reported in November last year, that gold extraction through chemical treatment with materials containing cyanide was causing an environmental disaster in the region.
In January, Sudan Transparency and Policy Tracker (STPT) said in a report on grassroots resistance to harmful gold mining practices must be backed by government policies.