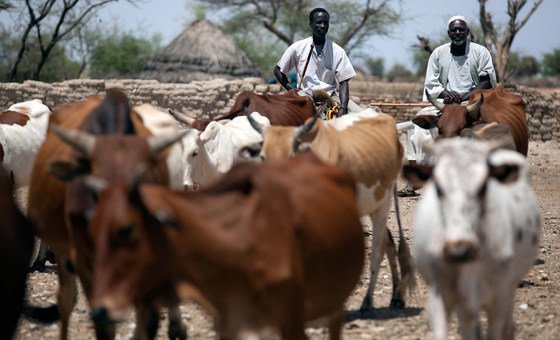 NYALA – June 4, 2023
---
Seven tribal leaders in South Darfur have declared their support for the Rapid Support Forces (RSF) in the war between the paramilitary RSF and the Sudan Armed Forces (SAF).
The leaders of the tribes of Beni Halba, Tarjam, Habaniya, Fallata, Misseriya, Taaysha, and Rizeigat in South Darfur expressed their support in a video statement yesterday.
They called the war "a battle between right and wrong, against the remnants of the former regime who exploit the Sudan Armed Forces in order to return to power through the army generals". They accused these "remnants" of the Al Bashir regime of "throwing the army into a war that has no basis".
The leaders called on their tribesmen present in the army to join the RSF.
In the statement, they also asked for the continuation of negotiations and condemned the bombing of unarmed civilians with air power and artillery.
'Arab militants'
The tribes that support the RSF are mainly cattle-herding tribes, predominantly of Arab origin. After Darfuri rebel groups attacked the airport of El Fasher, capital of North Darfur, in early 2003, the Sudanese government organised and armed young impoverished Arab men that were already wreaking havoc in the region.
The Sudanese authorities gave these militants, called janjaweed in Darfur, free reign to target rebel bases. In reality, however, they never came near any rebel group, but instead attacked non-Arab African villagers, who are mostly sedentary farmers, on a large scale.
Groups of these militants were recruited for the newly created paramilitary Central Reserve Police/Forces (Abu Tira or Teira) and the Border Guards, that worked together with the military to attack and destroy villages.
In 2013, the janjaweed were integrated into what became the RSF. RSF Commander Mohamed 'Hemedti' Dagalo belongs to the Rizeigat.
Tensions between herders and farmers over pastures and water resources have been present in Darfur for centuries. Violent disputes, mostly occurring in the dry season between January and May, used to be peacefully solved by ajaweed [wise elders], but since Omar Al Bashir came to power and favoured 'the Arabs', the delicate balance between the Arab herders' tribes and the African farmers tribes was brutally disrupted.