North Darfur deploys joint forces to contain security situation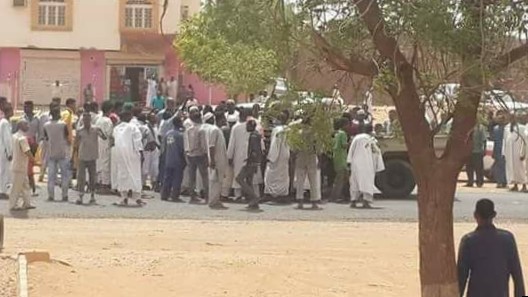 TAWILA / KABKABIYA / MERSHING –
---
Security forces started patrolling the Kabakabiya-El Fasher road earlier this week in an attempt to reduce attacks on vehicles in the area. In Tawila, joint forces carried out a campaign against repeat offenders and drug dealers on Wednesday.
Omda Adam Bosh told Radio Dabanga that a security force consisting of army soldiers, paramilitaries of the Rapid Support Forces, former rebel combatants, and policemen began combing markets in several towns in Tawila locality on Wednesday.
"A joint security force of 80 military vehicles was deployed in Tabit," he said. "Kanjara witnessed the arrival of 50 military vehicles, while forces consisting of 10 vehicles were dispatched to Tawila, Koweim, and a number of other places.
The forces stopped a number of market customers wearing a kadamol (scarf covering the face), took the scarfs and burned them, Bosh said. One drug dealer was arrested and deported to the state capital El Fasher.
The community leader further reported that the Kabkabiya-El Fasher road, in particular in the area of Kowra, is still witnessing armed robberies, and welcomed the forces that are now patrolling the road.
Militia
Bosh told Radio Dabanga two weeks ago that large numbers of gunmen on motorcycles were gathering in the area of Kowra. They were robbing vehicles on the El Fasher-El Geneina road. He further accused "members of this militia" of drug trafficking as well, including in Tawila camp.
Two months ago, a large number of people in Kabkabiya town took to the streets to protest the growing insecurity in the area. 
The localities of Kutum and Kabkabiya are home to militiamen of the Border Guards. The militia was created in 2003 when the Sudanese regime wanted to provide a formal status to proxy Darfuri Arab tribal gunmen called Janjaweed in Darfur. The members of the Border Guards principally belong to the Rizeigat Mahameed, the clan where the notorious Janjaweed leader Musa Hilal comes from. After the fall of President Al Bashir in April 2019, funding stopped and the Border Guards resorted, more than before, to banditry, assaulting and robbing people in the region.
Other incidents
A group of gunmen raided a house in El Sereif in North Darfur on Wednesday. They fired around them and killed the horse of the owner.
Displaced people reported that on the same day passengers of a commercial vehicle en route from Kass to Mershing in South Darfur were violently robbed of their telephones and money.
On Thursday, gunmen wearing military uniforms shot a displaced person in Jebel Tege in Mershing and stole his belongings.