Juba Peace Agreement signatories arrive in South Sudan for workshops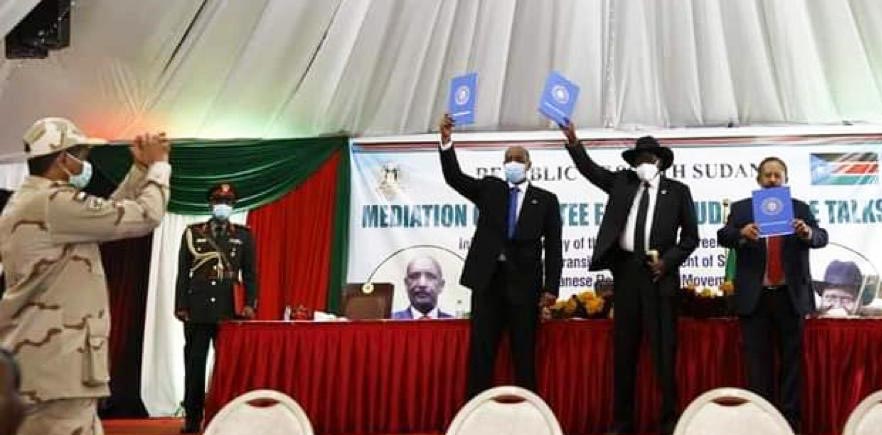 ---
Today, the activities of the technical workshop for evaluating the 2020 Juba Peace Agreement (JPA) will start in Juba, capital of South Sudan.
End January, the South Sudanese mediation team invited all the signatories of the JPA, including the Sudanese government, to a workshop on the implementation of the agreement in Juba.
Representatives of the signatories arrived yesterday. The delegation of the Sudanese government is headed by Lt Gen Yasir El Ata, member of the Sovereignty Council.
He is accompanied by the acting Minister of Defence, Lt Gen Yasin Ibrahim, the head of Sudan's Peace Commission, Suleiman El Dabello, and a number of experts and academics.
They and representatives of the 14 rebel groups that signed the JPA under the umbrella of the Sudan Revolutionary Front in Juba on October 3, 2020, were received by the head of the South Sudanese mediation team, Tut Galuak, and rapporteur Dhieu Mathok yesterday. 
Mathok said that senior negotiators, secretaries, and various technical committees will participate in the technical workshop beginning today.  
It is expected that the Chairman of the Sovereignty Council, Lt Gen Abdelfattah El Burhan, and the President of South Sudan, Lt Gen Salva Kiir Mayardit, will also participate in the workshop.
The workshop comes as part of a move to expedite the JPA, over two years after it was signed on October 3, 2020.
Khartoum conference
The latest conference as part of Sudan's process to reaching a Final Agreement between the military junta and civilian opposition explored drivers of conflict and ways to better implement and revitalise the JPA. The review of the JPA is part of the political process that the military junta and more than 40 political parties and civil society groups agreed upon in the Framework Agreement signed on December 5 last year.
Mohamed Saleh Khaddam, media secretary of the South Darfur branch of the National Umma Party (NUP, an important member of the FFC-CC), has stressed the need to involve stakeholders and war victims from Darfur in the official dialogue conference on the JPA.
"The support of the rebel signatories of the JPA to the 2021 military coup has definitely harmed the agreement," Khaddam told Radio Dabanga in January. "The challenges that hindered the implementation of the JPA have to be addressed, in order to reach a comprehensive consensus to complete the democratic transition process in the country."
In a separate conference in Cairo last week, brokered by Egypt, 85 participants, including rebel signatories of the JPA, deciding the next steps for Sudan affirmed their commitment to implementing the peace agreement.