Continued battles deepen civilian suffering in North and South Darfur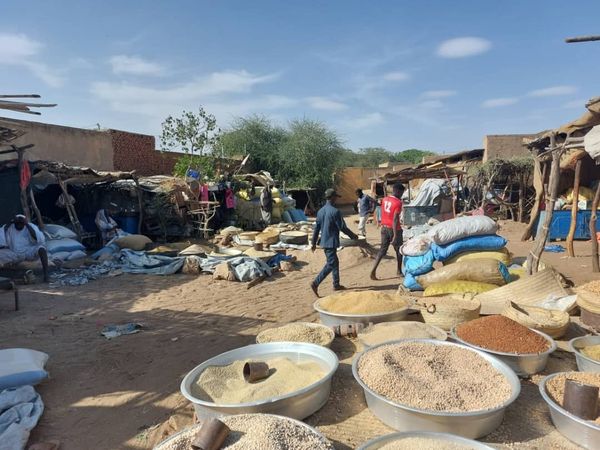 Clashes between the Sudanese army and the Rapid Support Forces (RSF) continued in Nyala, South Darfur, yesterday, marking the eleventh consecutive day of violence. The violence has led to a significant exodus of people, with up to 50,000 fleeing the city since August 11. In El Fasher, North Darfur, four rebel combatants were injured. People in both cities complain about water shortages, outbreaks of malaria and typhoid, and a lack of essential medical supplies.
Nyala, capital of South Darfur, witnessed a continuation of heavy battles between the Rapid Support Forces (RSF) and the Sudan Armed Forces (SAF) on Tuesday morning as paramilitaries of the RSF attacked the base of the 16th Infantry Division. The Sudan army commander-in-chief, Abdelfattah El Burhan, announced he will "promote all non-commissioned officers and soldiers of the 16th division to higher grades", based on the recommendation of the division commander who was killed on Monday in Nyala.
Listeners in Nyala told Radio Dabanga that internet services are cut off for the fourth day. They further reported food shortages, disruptions in electricity and water supply, and a deteriorating healthcare situation. They also expressed concern about the increasing number of people leaving the city.
The UN Office for the Coordination of Humanitarian Affairs (OCHA) in Sudan reported on Monday that up to 50,000 people have fled Nyala due to renewed fighting since August 11. At least 60 people have been killed since then, with 250 others injured by the fighting. The number of wounded reportedly exceeds the capacity of the Turkish hospital in Nyala.
OCHA noted that because of the continuing violence, lorries loaded with "nutrition, health, and water, sanitation and hygiene (WASH) supplies destined for Nyala", have been unable to move from the East Darfur capital Ed Daein since August 14, delaying the planned distribution of aid by the UN International Children's Emergency Fund (UNICEF).
The report states that people fled their homes to seek refuge in safer neighbourhoods in Nyala. The Otash and Kalma camps for the displaced in Beliel have also received an influx of people. Other sought shelter in other parts of South Darfur, and in East and North Darfur.
El Fasher
Sources told Radio Dabanga from El Fasher, capital of North Darfur, that the ongoing battles have forced a significant number of people to flee to the city. There are reports that many wounded army soldiers arrived at the Military Hospital in El Fasher on Monday evening.
A woman who left Nyala for El Fasher two days ago highlighted the dire conditions in some of the Nyala neighbourhoods, particularly in the city centre. She noted that there are few markets left in Nyala that are still open, "along with a few shops in semi-stable neighbourhoods".
She added that groups of rebel fighters are stationed in the northern neighbourhoods of Nyala. "They are securing the market and are asking a symbolic fee in exchange for protection". She added that the Turkish hospital, the Military Hospital, and some health centres in El Fasher are still functioning.
She warned travellers heading to El Fasher not to use buses without adequate protection, as "continuous robberies are occurring along the way".
Four rebel combatants were injured on Tuesday in clashes between policemen and rebel fighters at the Um Defesu market in El Fasher.
The fight involving light weapons took place following an altercation between a rebel and a policeman. "This escalated into a heavy gunfire, whereby four rebel fighters were wounded".
Insecurity is rampant in El Fasher as gunmen and members of the RSF are reportedly robbing people of their belongings and telephones. The city is also grappling with dire sanitary conditions and faces an outbreak of malaria and typhoid. This is aggravated by a shortage of blood bags and essential medicines.
People in El Fasher also face a severe drinking water crisis, especially in the eastern and northern neighbourhoods. Khalil Abakar, a resident of El Tadamon in the northeast of El Fasher, told Radio Dabanga that the neighbourhood has been completely without water supply since the outbreak of the violent conflict on April 15.