♦ Sudan: This week's news in brief ♦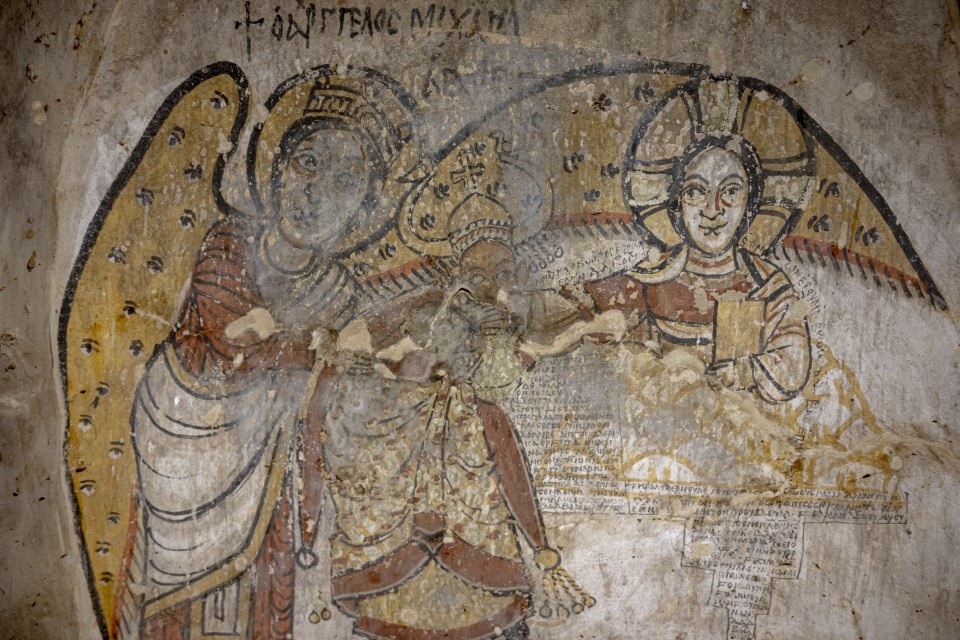 DABANGASUDAN – April 11, 2023
---
A compact digest of the past week's most-read highlights, from the heart of Sudan. Subscribe to receive this digest weekly in your inbox.
---
Archaeologists discover 'probably 13th century' Christian art in northern Sudan
OLD DONGOLA – April 10, 2023. Archaeologists from the Polish Centre of Mediterranean Archaeology, University of Warsaw (PCMA UW), have made stunning discoveries in Old Dongola (Tungul) in Sudan's Northern State. This year, the Polish team discovered a complex of rooms made of sun-dried bricks, the interiors of which were covered with murals showing figural scenes of early Christian art.
"Seems that the god of excavations favoured us. We found not only the stone blocks from walls and floor of a Napatan temple of Amun of Gem-Aton (Kawa) but also enigmatic complex of chambers covered with murals and inscriptions dating to probably around 1276 CE," Artur Obluski, the director of the PCMA UW, said in a tweet on Thursday.
---
Signing of Sudan's Final Agreement postponed over SAF-RSF differences
KHARTOUM – April 4, 2023. The signatories of the Framework Agreement decided to postpone the signing of the Final Agreement to April 6 instead of April 1, as originally planned, to give the junta members extra days to resolve differences over military integration and reform.
The Framework Agreement postponed five 'thorny issues' until the Final Agreement, including agreements on security and military reform. However, the leaders of the SAF, Sudan's official military, and the RSF, the country's largest paramilitary, are reportedly quarrelling over the integration, reform, and modernisation of Sudan's armed forces.
---
Revenge attacks shake up Darfur
FORO BARANGA / BIRKAT SEIRA – April 11, 2023. An unknown number of people were killed and wounded in an attack launched by large groups of armed men on Foro Baranga in West Darfur yesterday after 'mysterious' killings. Birkat Seira in Saraf Omra, North Darfur, also witnessed revenge attacks.
 
South Kordofan residents oppose 'hazardous mining'
EL TADAMON – April 10, 2023. Residents in South Kordofan restated their opposition to mining activities that pose a threat to human health and the environment in the El Tadamon locality, on Saturday. Human rights groups have also called on mining companies operating in the area to halt their activities immediately.
 
Sudan's leaders urge 'dialogue and tolerance' to ease tension
KHARTOUM – April 9, 2023. The chairman of Sudan's Transitional Sovereignty Council and Commander of Sudan's Armed Forces Lt Gen Abdelfattah El Burhan urged political and other Sudanese forces to put the national interest first, "by making mutual concessions to achieve stability and a decent life for Sudanese people".
 
80 homes razed in North Darfur inferno
EL LAEIT, NORTH DARFUR – April 9, 2023. At least 80 homes, dozens of shops, and large quantities of agricultural produce have been completely destroyed by a fire that broke out in the village of Hamary Andarab in the Haskanita Administrative Unit in El Laeit locality, North Darfur, on Friday evening and raged on into Saturday.
 
Sudanese denounce Shield Forces 'predatory recruitment' as concerns over new militias grow
DONGOLA / KHARTOUM – APRIL 7, 2023. Activists in Sudan's Northern State have criticised the armament and recruitment operations carried out by the Northern Shield Forces, a militant defence group in the area consisting of elements of the defunct Omar Al Bashir regime, amidst growing concerns over the nationwide spread of the Sudan Shield Forces.
 
Many displaced after West Kordofan clashes kill 10, authorities fail to intervene
KADUGLI – April 7, 2023. Displaced people are arriving in Kadugli, the capital of South Kordofan, after attacks in the border area of ​​El Kharasana in West Kordofan last week. At least 10 people died at the hands of armed men in attacks carried out by Misseriya tribesmen aimed at the Nuba Angola clan.
 
Sudan: Breakthrough on security reform, rebels demand more power, revolutionary forces call for unity
KHARTOUM – April 6, 2023. While the mainstream Forces for Freedom and Change, the FFC-Central Council, reported a breakthrough on reform of the country's military and security institutions, the FFC-Democratic Block allegedly agreed to a proposal of the AU-IGAD-UN Trilateral Mechanism about the percentage of power-sharing for rebel movements during the upcoming transitional period.
 
Complaints about growing insecurity in eastern Sudan
PORT SUDAN – April 5, 2023. Travellers in eastern Sudan complain of armed robberies on the road linking Kassala with Port Sudan, capital of Red Sea state. A solution for the marginalised and politically-divided region is not to be expected soon.