World Press Freedom Day 2023: 'Media in Sudan face increasing harassment'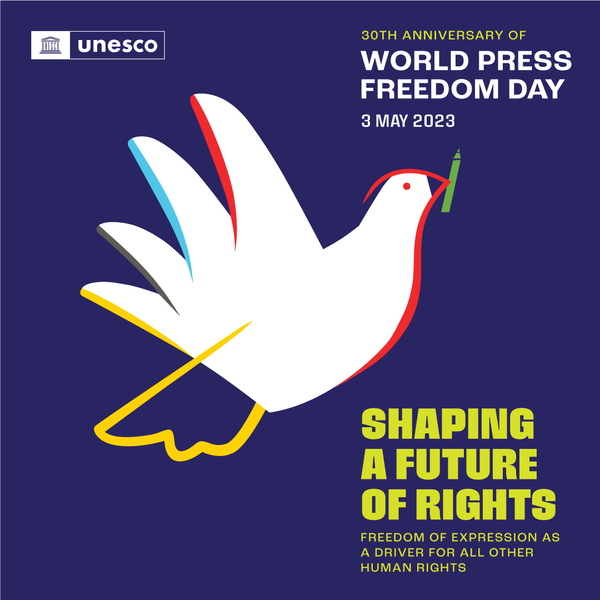 AMSTERDAM / KHARTOUM / NEW YORK –
---
Despite five failed ceasefires, Sudan's current clashes have now entered its 17th consecutive day of conflict leaving at least 538 civilians dead, 4,599 injured, and almost 75,000 displaced. As the humanitarian situation worsens in Sudan by the day, the plight of press freedom still remains under an ever-present threat. Over the past decade, Sudan has consistently ranked near the bottom of the World Press Freedom Index. This is one of the reasons Radio Dabanga has been forced to operate in exile from Amsterdam, since the height of the former Omar Al Bashir dictatorship. This year's theme for the 30th anniversary of World Press Freedom Day organised by the United Nations Educational, Scientific and Cultural Organisation (UNESCO) is suitably centred around "freedom of expression as a driver for all other human rights".
The UN General Assembly proclaimed *May 3 as an international day for press freedom 30 years ago, and under the Universal Declaration of Human Rights 75 years ago, the right to freedom of opinion and expression was entrenched.
However, whilst this essential preservation emphasising an adversarial and pluralistic media landscape is present in most democracies in the world, Sudanese journalists and media professionals, especially women in the field, have faced increasing violations and threats in recent times.
Earlier this year, the journalist Safaa El Fahal at Sudan's El Jareeda newspaper, received threats from an extremist Islamic group via Facebook, after she wrote a column on military training taking place in Quran schools.
El Fahal told Radio Dabanga that she had covered the story of a woman who told her that women and girls were receiving military training in Quran schools.
In a message via Messenger, a person who stated that he belongs to the Missionary Movement for Preaching and Fighting, declared her an infidel and threatened to "seize and slaughter her", adding that she 'had better repent before we get you".
Similarly, the investigative journalist Zamzam Khater was threatened by the North Darfur State Police Director, after she published news of a crime allegedly related to the involvement of individuals affiliated with the police.
The director threatened Khater with verbal violence in a text message: "The news you published will condemn you."
In an interview with the Sudan Today programme on Radio Dabanga, Khater expressed her fear that she would be targeted by the police or that she would be framed for publishing this news.
Several months ago, reporter Hafida Abdallah Mousa was detained by police in Zalingei the capital of Central Darfur. The authorities reportedly did not adhere to any legal procedure when arresting Mousa.
She was arrested covering a vigil of vegetable traders in a local market. Eyewitness told Radio Dabanga that before she was arrested, the police prevented her from filming and covering the event and took her phone before taking her to the police station and detaining her "without following any legal procedures".
According to today's statement by the European Union for World Press Freedom Day, "women journalists are particularly vulnerable to threats and increasing attacks, both offline and online". They add that women in the field are exposed to "stigmatisation, sexist hate speech, trolling, sexual and gender-based violence and even murder".
Journalists Association for Human Rights in Sudan
Regrettably, incidents against journalists have become commonplace in Sudan. The Journalists Association for Human Rights (JAHR) in Sudan highlighted a number of significant abuses against Sudanese press freedom on the International Day to End Impunity for Crimes against Journalists last year on November 2.
In their statement, JAHR pointed out that since the coup d'état of October 25, 2021 an "increasing brutal restriction" on the press has taken hold through a slew of "repressive policies and practises".
According to Feisal El Bagir, coordinator of JAHR, as well as journalists facing "harassment, kidnapping and false imprisonment", methods such as "blocking the internet, cutting off telephone services, and hacking digital devices" have become well established tools to silence dissent by Sudan's security service.
El Bagir renewed the association's commitment in continuing their efforts with the Sudanese Journalists Syndicate, the Women's Journalists Entity, and all parties in the journalistic arena, in order to "establish the largest coalition" of both men and women journalist organisations against impunity.
JAHR holds the junta authority responsible for their crimes against journalists, adding that they also used their power "to cover up their crimes legally".
Press freedom
Last year, on the occasion of the first anniversary of the October 25 coup, the Sudanese Journalists Syndicate lamented the unprecedented targeting the press and media in Sudan faced since the October 2021 coup, and said that the press and media in Sudan witnessed "a terrible regression in terms of press freedom".
Sudan ranks 151 out of 180 in the 2022 World Press Freedom Index, and 29 out of 100, i.e. 'Not Free', in Freedom House's Internet Freedom Index. "Anti-journalist predators enjoy total impunity and are protected by the authorities," according to Reporters Without Borders. On its website, the organisation states that "journalists are working in a worsening climate of violence" since the coup d'état of October 2021.
---
*Every year, May 3 is a date which celebrates the fundamental principles of press freedom, to evaluate press freedom around the world, to defend the media from attacks on their independence and to pay tribute to journalists who have lost their lives in the exercise of their profession. World Press Freedom Day was proclaimed by the UN General Assembly in 1993 following a Recommendation adopted at the twenty-sixth session of UNESCO's General Conference in 1991. This in turn was a response to a call by African journalists who in 1991 produced the landmark Windhoek Declaration(link is external) sur le pluralisme on media pluralism and independence.
At the core of UNESCO's mandate is freedom of the press and freedom of expression. UNESCO believes that these freedoms allow for mutual understanding to build a sustainable peace.
It serves as an occasion to inform citizens of violations of press freedom – a reminder that in dozens of countries around the world, publications are censored, fined, suspended and closed down, while journalists, editors and publishers are harassed, attacked, detained and even murdered.
It is a date to encourage and develop initiatives in favour of press freedom, and to assess the state of press freedom worldwide. (Source: UNESCO)
#WorldPressFreedomDay