Sudan National Museum prepares for reopening after transfer of its main statue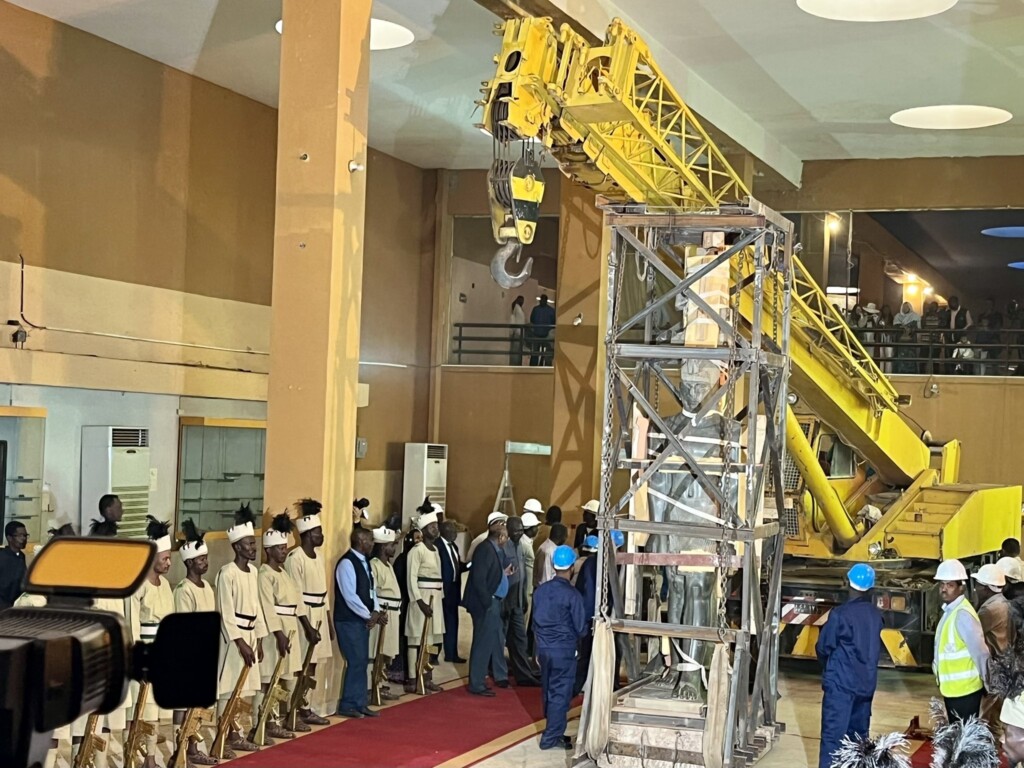 ---
The Sudanese National Museum in Khartoum on Saturday witnessed the transfer of the statue of King Taharqa to a new location in the museum. The moving of the statue, which weighs about seven tons, from the entrance to a new place inside the hall is part of the ongoing renovation of the museum.
The statue of the most prominent ruler of the Kingdom of Kush was moved, nearly 3,000 years after his death, during a ceremony enlivened by the Sudan Music Corps and attended by media professionals, diplomats, and others interested in antiquities.
The Sudanese Minister of Culture and Information, Graham Abdelgadir, told the Sudanese News Agency, that with this transfer, the final procedures for the reopening of the National Museum began.
The Project "Protecting and Promoting the Sudanese Cultural Heritage in a Social Development Prospective: Rehabilitating the Sudanese National Museum" was launched in November 2018 with the signing of an agreement by the UNESCO Khartoum Office with the Italian Agency for Development Cooperation and the Sudanese Ministry of Culture, Tourism and Antiquities to renovate the museum.
The work is being implemented by Sudan's General Authority for Antiquities and Museums, with the participation of UNESCO and a number of international agencies and private sector companies.
The Deputy Director of the Sudanese Museums Department, Ikhlas Abdellateef, said at the ceremony on Saturday afternoon that the transfer of the statue of King Taharqa, the largest artifact in the museum, can be considered one of the most important stages of the renovation of the museum.
"The operation was carried out with a one million Dollar grant grants from the Italian government and half a million Dollar from the Sudanese government," she said during the ceremony. "Private companies were commissioned to start rebuilding and renovating the National Museum in 2020, but the consequences of the Covid-19 pandemic delayed the project."
The statue was found in Jebel Barkal in northern Sudan. It was moved to the National Museum in the early 1960s as part of the campaign to save Nubian antiquities during the operation of the High Dam Lake.
(Sources: Sudan News Agency (SUNA), El Taghyeer, Asharq Al-Awsat)