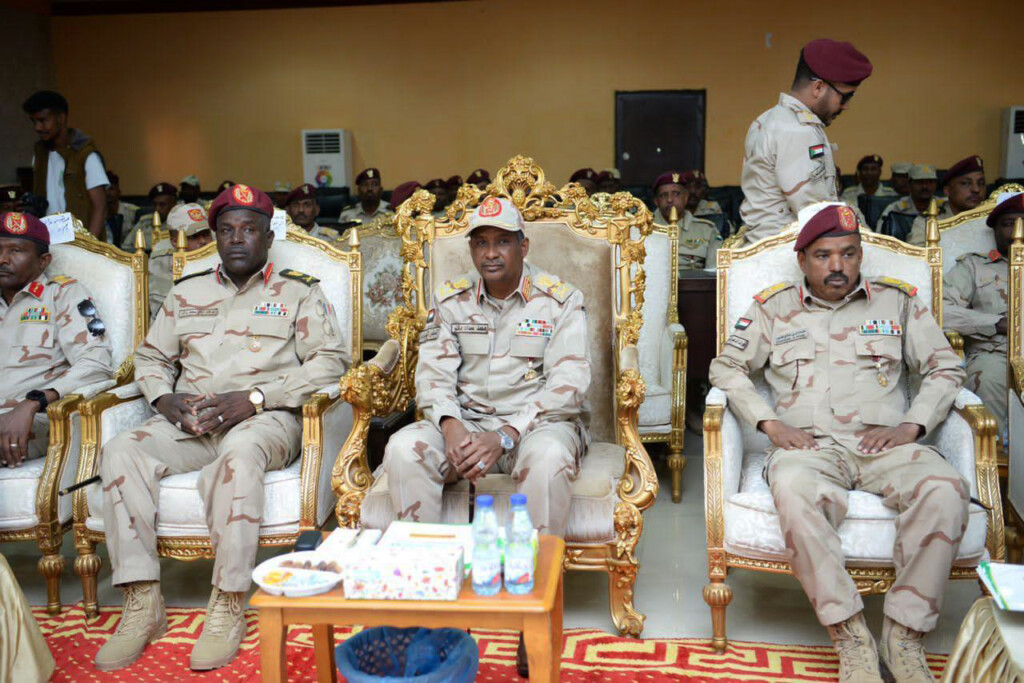 The commander of the paramilitary Rapid Support Forces (RSF) and Vice-President of the Sovereignty Council, Gen Mohamed 'Hemeti' Dagalo arrived in Nyala, capital of South Darfur yesterday, where he held a closed meeting with the South Darfur Security Committee, concerning about the attacks on a number of villages in Beleil, south-east of the state capital last week. Hemeti also witnessed the concussion of the eight-day conference of the RSF.
Hemeti is accompanied by El Hadi Idris, rebel leader and member of the Sovereignty Council, representatives of the military, intelligence, police, and the public prosecution.
On Wednesday evening, Hemeti met with a number of South Darfur native administration leaders in Khartoum, and told them he would bring those involved in the recent violence to justice. He pledged not to take sides with any party. He further called on all "to ignore the claims of some who want to divide the people into 'blacks' and 'Arabs'".
On Wednesday and again on Friday last week, more than 10 villages in Beleil, populated by 'African' farmers of the Daju tribe, were attacked by large groups of 'Arab' gunmen. Some of them allegedly were wearing uniforms of the RSF and driving in RSF vehicles.
On Tuesday, Hemeti visited the South Sudan capital of Juba, accompanied by Gen Ahmed Mufaddal, Director of the General Intelligence Service (GIS), Maj Mohamed Ali Sabeer, Head of Military Intelligence, and Maj El Kheir Abdallah, Head of the RSF Intelligence Department, he met with Salva Kiir Mayardit, President of South Sudan, and a number of state officials.
RSF conference
The official Sudan News Agency (SUNA) reports that after the conclusion of the eight-day conference of the Rapid Support Forces (RSF) in Nyala today, the commander of the Darfur sectors of the RSF and Chairman of the Conference, Maj Gen Abdallah Abakar said in press statements, that the conference, which included eight sectors in addition to the Peace Shield Forces, "aimed to upgrade performance to support the projects of peace, development, security and peace promotion," as well as assistance in establishing security and voluntary return and securing the agricultural season.
He pointed out that during the conference, the performance of the agricultural season was evaluated and the negative aspects that accompanied it were studied in order to be avoided in the future.
Abakar added that ways of how to secure the western borders with the Central African Republic were also discussed, where important observations were raised in this respect.
He said that periodic annual conferences would be held in all states of Darfur to evaluate performance of security situations, praising the good coordination, twinning, and participation in security restoration among the leaders of the RSF, the Armed Forces, the Police, and the General Intelligence Service.