♦ Sudan: This week's news in brief ♦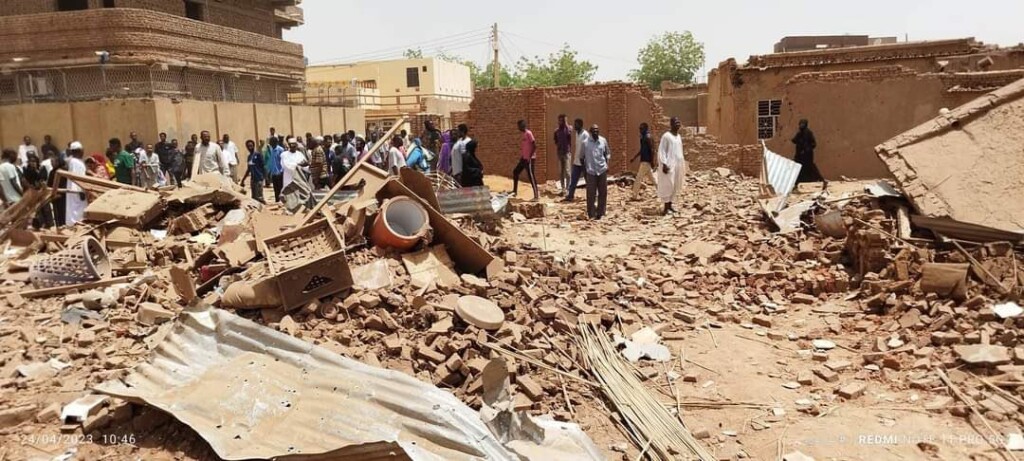 DABANGA SUDAN – May 8, 2023
---
A compact digest of the past week's most-read highlights, from the heart of Sudan. Subscribe to receive this digest weekly in your inbox.
---
Sudan activists reject both warlords, call for participation in peace talks
KHARTOUM – May 7, 2023. While representatives of the Sudan Armed Forces (SAF) commanded by Lt Gen Abdelfattah El Burhan and the paramilitary Rapid Support Forces (RSF) headed by Lt Gen Mohamed 'Hemedti' Dagalo began 'pre-negotiation talks' in Saudi Arabia, many Sudanese activists reject both warring parties and refuse to pick sides.
The resistance committees active in the neighbourhoods of eastern Khartoum said in a press statement last week that the usual "binary position (with/against the army/ militia), does not concern us as civilians in anything". "Our position necessarily favours the only one affected by this war, the Sudanese people." "The most important position now is the preservation of people's lives and their livelihood, peace and security, and access to basic services."
---
FEWS NET: Millions of Sudanese face critical shortages of food and water
WASHINGTON DC – May 3, 2023. The fierce fighting between the Sudanese army and the paramilitary RSF that erupted on April 15 has led to a rapid deterioration in food security conditions, the Famine Early Warning Systems Network (FEWS NET) reported on Friday.
The sudden eruption of conflict caused a "swift and unanticipated disruption to trade and market functionality, household mobility, humanitarian assistance, and basic service provision," FEWS NET stated. The armed conflict has left millions of people facing critical shortages of food, water, and basic supplies, particularly in dense urban areas and in greater Darfur which hosts a large share of displaced and acutely food-insecure people.
---
Sudan: doctors face threats and repression as death toll mounts
Khartoum – May 8, 2023. The number of civilians who died since the beginning of the clashes between the SAF and the RSF, up until Saturday, was estimated to be 481 in a field report published by the Sudanese Doctors Trade Union (SDTU) yesterday. Medical personnel highlighted the severe challenges and repression it faced at the hands of the warring parties.
 
Sudan Finance Minister: 'Arrangements underway to pay civil servant salaries'
WAD MADANI – May 7, 2023. The Sudanese Minister of Finance and Economic Planning and leader of the Justice and Equality Movement, Jibril Ibrahim, announced ongoing efforts to pay salaries of civil servants at a meeting in Wad Madani, capital of El Gezira.
 
Sudan's embattled SAF and RSF in Jeddah for 'pre-negotiation talks' on humanitarian truce
JEDDAH – May 6, 2023. Representatives of the SAF and the paramilitary RSF, whose bloody clashes across Sudan have ignited a humanitarian crisis, claimed hundreds of lives, and left thousands more wounded or displaced, today began 'pre-negotiation talks' in Jeddah in Saudi Arabia.
 
Provision shortages worsen crisis in Khartoum and Kordofan
KHARTOUM / KORDOFAN – May 5, 2023. People in Khartoum and Kordofan suffer from water and electricity outages, scarcity of food, and rising prices owing to the ongoing conflict in Sudan. The humanitarian crisis in Khartoum is worsening as chronically ill patients struggle to access basic needs. A doctor from the Sudanese Doctors Committee shared a plea for international support.
 
Sudan conflict: President Biden enables new US sanctions
WASHINGTON – May 5, 2023. US President Joe Biden has called the violence in Sudan a 'tragedy', and signed an executive order on Thursday, paving the way for the USA to impose sanctions on "certain persons destabilising Sudan and undermining the goal of democratic transition".
 
Cautious calm in West Darfur capital after tribal truce
EL GENEINA – May 4, 2023. A truce was signed between tribal parties in the West Darfur capital of El Geneina on Tuesday, which resulted in a cautious calm on Wednesday. The violence has left more than 200 dead, and almost no functional hospitals to attend to the wounded. Many are seeking refuge in Goz Amir camp in western Chad.
 
Calls for targeted economic sanctions on Sudan's warring generals
DABANGA SUDAN – May 3, 2023. As the international community scrambles to limit the humanitarian disaster created by the fighting that erupted on April 15 between the SAF and the paramilitary RSF in Sudan, questions emerge on what can be done to end the violence and put the country back on a path to peaceful democratic transition.
 
Darfur update: El Geneina clashes continue, truce holds in El Fasher, looting in Nyala
EL GENEINA / EL FASHER / NYALA – May 2, 2023. Attacks are still taking place in West Darfur capital El Geneina, where the number of dead has risen to at least 230. Those left behind in the city are facing an 'extremely bad' humanitarian situation. In North Darfur capital El Fasher, a civilian-brokered truce is holding. The Ministry of Education in South Darfur was looted.
 
UN says Sudanese army and RSF agreed to negotiations, more mediation initiatives launched
KHARTOUM – May 2, 2023. Special Representative and Head of the UN Integrated Transition Assistance Mission in Sudan (UNITAMS) Volker Perthes told the Associated Press that the two parties to the conflict agreed to join negotiations that may be held in Saudi Arabia.